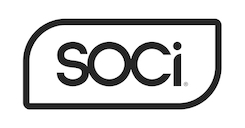 SOCi Inc.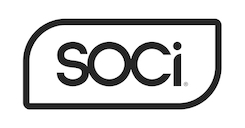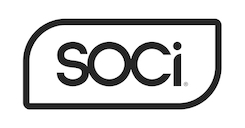 By SOCi Inc.
SOCi is the only marketing platform that enables multi-location marketers to manage local search, social, reputation, and messaging and deploy a localized experience across limitless locations — all through one login. Multi-location businesses can establish a powerful local presence, increase local activation and adoption, and drive unstoppable business growth at every location using SOCi.
Delivery method
SaaS
This product is a pure SaaS offering and does not require any additional software prerequisites.
The Marketing Platform for Multi-Location Brands We empower multi-location brands to scale marketing efforts across all digital channels in a way that's brand directed, locally perfected, and data connected. As one central place to scale marketing, SOCi is the only platform built for both enterprise and local teams
SOCIAL
SOCi's social media management solution enables multi-location businesses to manage and deploy localized content at scale while maintaining brand consistency at both the enterprise and local levels.
LISTINGS
SOCi empowers you to manage your business listings at scale and effectively optimize your online presence and local search rankings. From syncing, updating, and managing your local listings to custom audits, and profile recommendations to the flexibility for local managers to make their own updates with corporate oversight, SOCi Listings covers every step of the process to propel your listings to the top of search results.
LOCAL PAGES & LOCATOR
With SOCi Local Pages, limitless branded web pages can be deployed in less than two weeks. You can make real-time updates to local page and website data, in just a matter of minutes. With SOCi Local Pages, you can elevate your localized brand presence, increase conversions, and drive foot traffic.
REVIEWS
With SOCi Reviews, you can aggregate all your reviews across your locations and from over 20 key networks in one centralized platform. With SOCi Genius Reviews you can take advantage of highly customizable, automated, and intelligent review responses using cutting edge A.I. technology, advanced on-brand training models, and leading localization and
ADS
Leverage reporting and key insights at the account, group, and location levels to optimize future campaigns. Track and compare social advertising spend for regions and individual locations, and gain key insights to allow national and local marketing teams to optimize Facebook and Instagram ad campaigns. View metrics regarding spend, reach and engagement, demographics, and ad placement.
CHATBOTS
SOCi SmartBot is the first of its kind. This Facebook, Google, and SMS Messaging chatbot delivers localized, proactive responses to commonly asked questions and can drive call-to-actions including calls, website clicks, appointment setting, purchases, and more!
LISTENING
SOCi Listening enables both national and local marketers to take advantage of the power of online listening. Improve brand oversight and alleviate business risk by leveraging localized listening feeds to monitor customer conversation and mitigate potential crises the minute they surface.
Additional resources
Want more product information? Explore detailed information about using this product and where to find additional help.