Red Hat JBoss Enterprise Application Platform


Red Hat JBoss Enterprise Application Platform
By Red Hat
Certified enterprise ready
Fully supported in traditional, container, and cloud environments, Red Hat JBoss Enterprise Application Platform is a market-leading, Jakarta EE-certified and MicroProfile compliant Java application platform.
Included in Red Hat Runtimes, Red Hat JBoss Enterprise Application Platform is a market-leading open source platform for highly transactional, web-scale Java™ applications. A fully certified Jakarta EE and MicroProfile platform, JBoss EAP includes everything needed to build, run, deploy, and manage enterprise Java applications in a variety of environments, including on-premise, virtual environments, and in private, public, and hybrid clouds, and is optimized for use with the Red Hat ecosystem.
Jakarta EE 8 support
Red Hat JBoss EAP enables easier, more agile development. The Arquillian test platform makes it easier to test and offline CLI improves the ability to automate a delivery pipeline. Graceful shutdown allows for rolling deployments.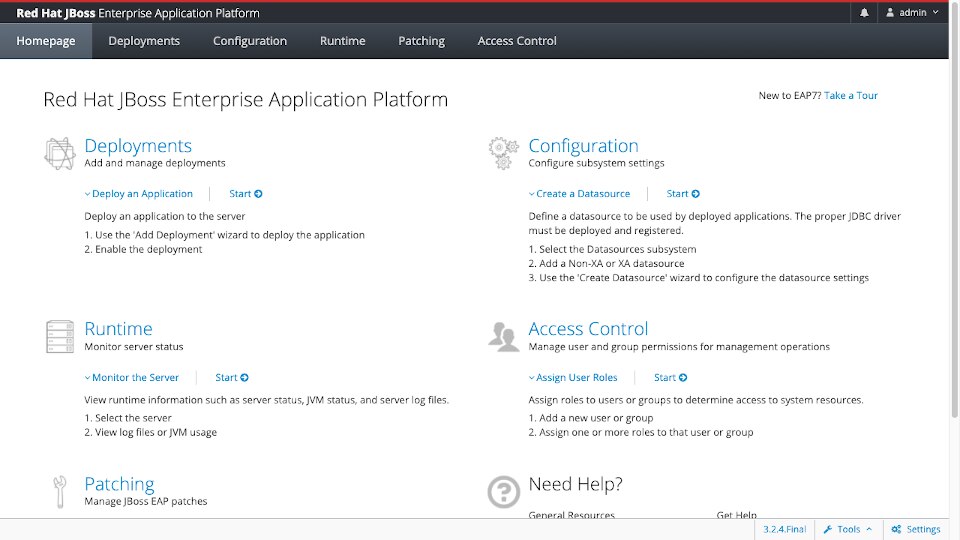 Adaptable Resource Usage
Red Hat JBoss EAP is suitable for a wide range of infrastructure and application types. It can power cloud-native microservices that use very little memory and CPU, or large, clustered applications that use terabytes of memory across thousands of cores. Regardless of your deployment architecture, JBoss EAP enables you to use the full power of Jakarta EE to build modern applications.
Eclipse MicroProfile support
With the JBoss Enterprise Application Platform expansion pack, developers can use Eclipse MicroProfile APIs to build and deploy microservices-based applications. Eclipse MicroProfile provides enterprise Java developers with enhanced APIs and support for common microservices-based patterns for deployment, configuration, security and observability.
Flexible deployments
Use Red Hat JBoss EAP on everything from mainframes to cloud and microservices environments. The Web Management Console provides stand-alone server and domain management. The same platform can also be run as a managed instance in a cloud environment using OpenShift. JBoss EAP lets you move from traditional to cloud deployments without having to rewrite applications.
DevOps Ready
Fully supported integration with the rest of the Red Hat ecosystem, like Red Hat OpenShift and Red Hat Satellite/CloudForms, makes Red Hat JBoss EAP an ideal platform to use for DevOps.
Included in Red Hat Runtimes
JBoss EAP is part of Red Hat Runtimes, which is a curated, best-of-breed set of products, tools, and components for developing and maintaining cloud-native applications. Red Hat Runtimes offers lightweight runtimes and frameworks for highly-distributed cloud architectures, such as microservices. Customers get access to a wide range of application development languages, frameworks, and services. See the README for more detail!
Additional resources
Want more product information? Explore detailed information about using this product and where to find additional help.