Nastel Navigator


By Nastel Technologies
Certified enterprise ready
Middleware administration & monitoring for MQ, Kafka, Tibco, IIB/ACE. Single GUI for management of multiple middleware; supporting deployment, migration, secure self service, monitoring, and auditing.
Rating
2 reviews
Middleware administration & monitoring for IBM MQ, Apache Kafka, Tibco EMS & IBM IIB/ACE. A single GUI for management of multiple middlewares. Reduce operational risk with automated audited deployment, migration, secure DevOps self service with full lifecycle management, integrated into DevOps tooling, with event monitoring for debugging, root cause analysis, diagnostics and remediation. Securely manage multiple middlewares on multiple servers on multiple clouds and on premise.
Configuration Management
Configure, control and deploy middleware artifacts. Keep track of changes across servers, VMs & containers using your browser. Make changes to multiple objects in real time or scheduled as a batch Provision new artifacts, deploy topologies Manage on-premise, cloud, hybrid with ease Control all your middleware from one place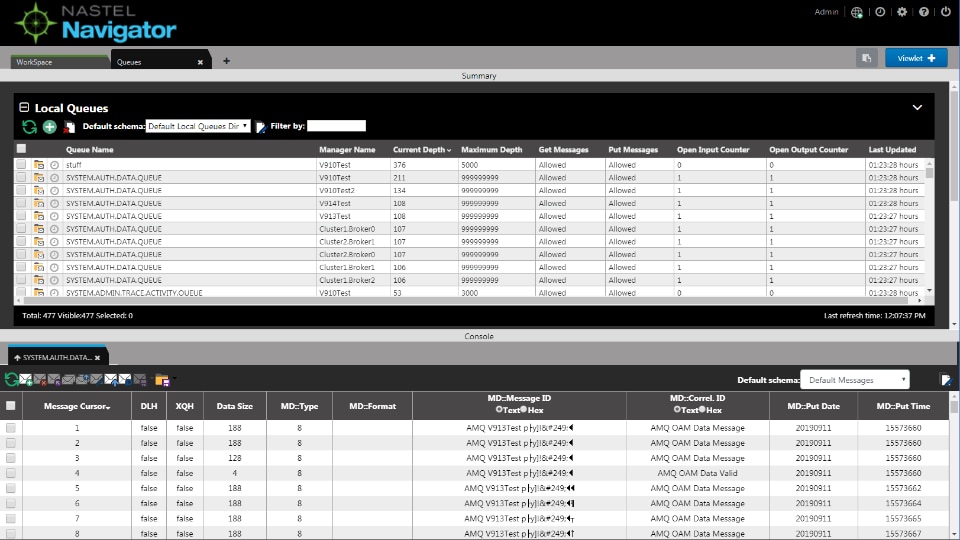 Nastel Navigator Quick Tour
Message Management & Testing
See and control all your messages across queues and topics from a central point. Find messages quickly - search your whole middleware estate for key ids and strings within the messages Browse, move, copy, delete and edit Modify, save & load messages in bulk Test your apps by generating message traffic
Scheduling & Automation
Schedule and automate changes across your middleware. Keep track of changes and deployed topologies with audit trail and roll back Extend the automation using REST APIs to integrate with DevOps automation tooling such as Jenkins, Ansible, Terraform, Kubernetes, Chef, Puppet. Integrate with other web apps, dashboards, and ticketing systems Script configuration, actions & deployments
Cloud Migration
Take configuration snapshots and deploy in your cloud environment. Manage all your environments from central point. Migrate the whole or part of your middleware topologies Schedule deployments Secure, role based access to each environment Validate environment stability with readiness checks Compare environments & objects, ensuring migration accuracy Migrate from on prem to cloud, or cloud to cloud, or from dev to test to prod.
Enhanced Security Enabling Self Service
Role based security with authentication and authorization from a central point. Manage all your users, teams, groups and access control Single sign-on with LDAP & Windows AD integrations Granular permissions by user, object or action Easily manage large and small organizations Audit trail of all changes & actions
Monitoring, Observability and Alerting
Monitor performance, availability, topologies and message flows. See deep inside your queues & topics. Proactively catch problems and bottlenecks before they impact your digital services. Monitor queues, topics, message flows, message rates Trigger alerts when problems or anomalies are detected Integrate with ServiceNow, Remedy, Splunk, AppDynamics and other general purpose enterprise monitoring and ticketing systems
Pricing summary
Please contact cloud@nastel.com for support with the trial
For different sized environments please contact Nastel for customized pricing cloud@nastel.com
Reviews
Read what others are saying about this product in our review section.
Consultant in Hospital & Health Care

Review source: Invitation from the seller

Review source: Invitation from the seller

Not rated

Feb 24, 2021

"A new way ahead for MQs"

What do you like best?

- Auto diagnosis of MQ. - Auto monitoring of MQs. - Nastel AutoPilot MQSpeedtest . - The messages are not lost and the error queue is not necessarily configured

What do you dislike?

- The performance gets bit low due to auto-monitoring. - Some messages gets delivered twice - The encryption techniques can be enhanced

Recommendations to others considering the product:

- Its a good alternative of Dell Boomi , Anypoint MQ just with few more enhanements

What problems are you solving with the product? What benefits have you realized?

-We use it as a replacement to Anypoint MQ . - We create order events to be sent from source systems to Salesforce to be better aligned

Administrator in Construction

Review source: Invitation from a seller or affiliate

Review source: Invitation from a seller or affiliate

Not rated

Mar 02, 2021

"Functionality"

What do you like best?

Cloud migration support for the most common cloud services.

What do you dislike?

The end user interface is a little old fashioned

Recommendations to others considering the product:

Try to understanding all features to get the best benefit of your invest

What problems are you solving with the product? What benefits have you realized?

Migration of servers and VMs to the cloud