AnonTech ViziVault


By AnonTech
Secure & manage personal information and comply with data privacy regulations with ViziVault by AnonTech.
Delivery method
SaaS
This product is a pure SaaS offering and does not require any additional software prerequisites.
Protect personal information (PI) and enable true data privacy. With encrypted, person-centric data storage, a powerful rules engine, and a sophisticated reporting & analytics interface, truly offer both data protection and data privacy to your customers. Take advantage of secure PI management, regulatory compliance, role-based access Controls, inbound and outbound 3rd party integrations, and our maintained regulations library.
Secure, Centralized PI Storage & Management
Centralize personal information (PI) from all of the various data sources throughout your organization. Move personal information data into our encrypted vault and manage PI as-a-service in your web applications.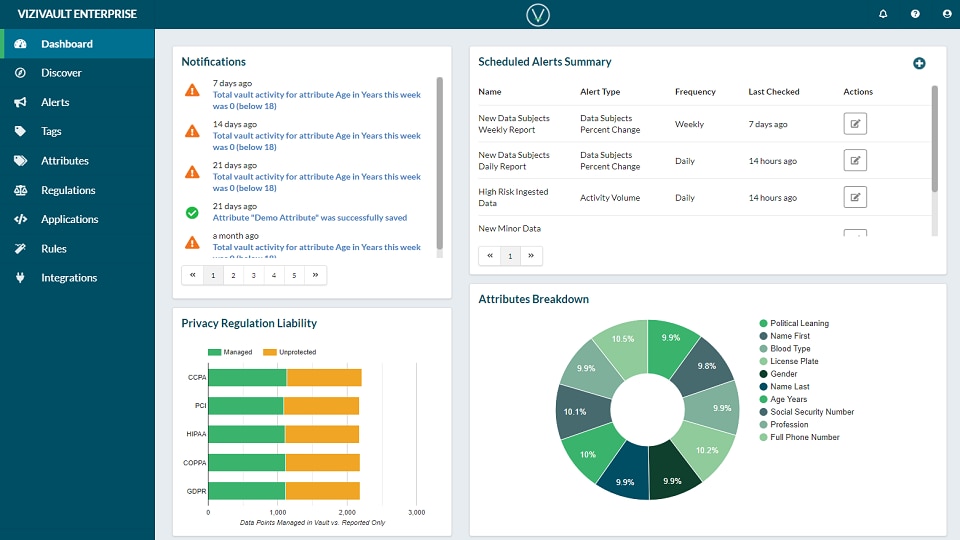 Regulatory Compliance
All data in the vault is associated with the underlying person for whom the data describes. Achieve regulatory compliance with the various industry, geographic, corporate, and general data privacy regulations.
Rules Engine
Leverage our powerful rules engine to make data actionable as it flows throughout your systems.
Risk Assessment & Mitigation
With our library of pre-built dashboard widgets, the ability to slice-and-dice your data with our discover tool, and the ability to create custom widgets, dashboards, and alerts, the right people in your organization can understand and mitigate risk in real-time.
Data Anonymization
Remove the personally identifiable information (PII) from your analytics datasets to de-risk your data, make it transportable, and in compliance with various regulatory controls.
Role-Based Access Control
Your system administrators are empowered to ensure that only the right people & systems have minimal access to only the specific pieces of data needed.
Data Activity Logging & Auditing
Every touch of data is monitored and logged. Powerful reporting features allow you to respond to any audit request with respect to how personal information data is used throughout the organization.
3rd Party Integrations
With a public SDK in multiple programming languages and an open source repository for connectors, take advantage of our community-led effort for both inbound and outbound integrations.