XCrypt for OpenShift


By Zettaset
Certified enterprise ready
XCrypt for OpenShift is a software-only solution built to transparently protect data in OpenShift environments without impacting performance.
Zettaset XCrypt for OpenShift provides a first-of- its-kind, software-only encryption solution that protects containers from data theft in any physical or virtual environment. It's transparent, easy-to-deploy, and has a negligible effect on performance as it's software-defined.
Performance
XCrypt Container is a first-of-its-kind encryption solution built specifically for containers. Because it's software-only, it overcomes the typical adoption barriers for encryption – offering a negligible effect on performance and adding no additional complexity to your container environments. Provides a transparent, high performance layer of security for your entire DevOps pipeline.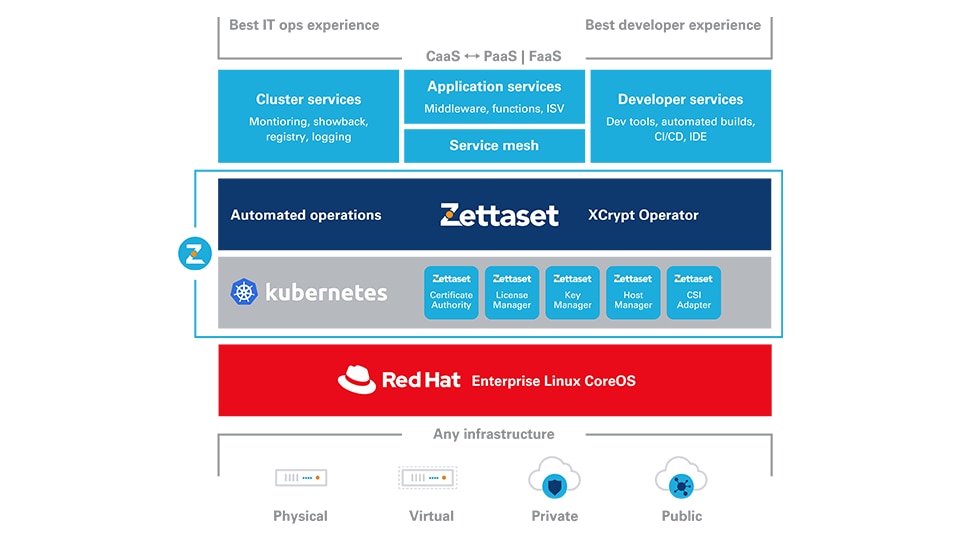 Transparency
Integrates directly with Kubernetes storage layer and can be deployed without changes to existing processes. There is no need for any code changes. Current applications will run as is after the install of XCrypt for OpenShift. Users and Developers will not be even aware that the data is being encrypted and decrypted. Also users do need not to have cryptographic experience.
Automated Policy Management
When containers are created, volume groups are automatically provisioned and encrypted - one encrypted volume group per persistent volume, preserving persistent volume granularity. Encryption keys are managed automatically and transparently. The entire provisioning and encryption process is automatic. When containers and persistent volumes are destroyed, associated encryption keys are automatically destroyed, eliminating the need for erasing sensitive data.
Unique encryption key per persistent volume
Each persistent volume is encrypted with its own unique key. This provides enhanced level of protection especially in multi-tenant environment: one compromised tenant system does not expose the entire environment.
Pricing summary
Unlimited persistent volumes
Worker nodes limited to enterprise license
Usage period limited to enterprise license and not just 30 days like trial version
Additional resources
Want more product information? Explore detailed information about using this product and where to find additional help.