Nastel XRay


By Nastel Technologies
Certified enterprise ready
Business and IT operational monitoring, alerting and analytics by capturing, storing, analysing & reporting on data from all middlewares & applications across any business transaction to achieve SLAs & problem diagnostics.
Business and IT operational application performance monitoring and observability and analytics by capturing, storing, analysing, reporting & alerting on data from all middlewares & applications across any business transaction to achieve SLAs, problem diagnostics and root cause analysis, and regulatory compliance. Transaction tracking & tracing across multiple middlewares on multiple servers on multiple clouds and on premise - mainframe & distributed.
Proactive Monitoring & Predictive Analytics
Identify KPIs as part of SRE to prevent issues before they occur: Latency - time to service a request. Traffic - demand placed on system Error Rate - Rate of Failed Requests Saturation - Which resources are most constrained See failures early in their development and automatically take measures to prevent it becoming serious. Reduce risk and forecast future issues with increasing levels of accuracy and take decisive measures to avoid them ever happening.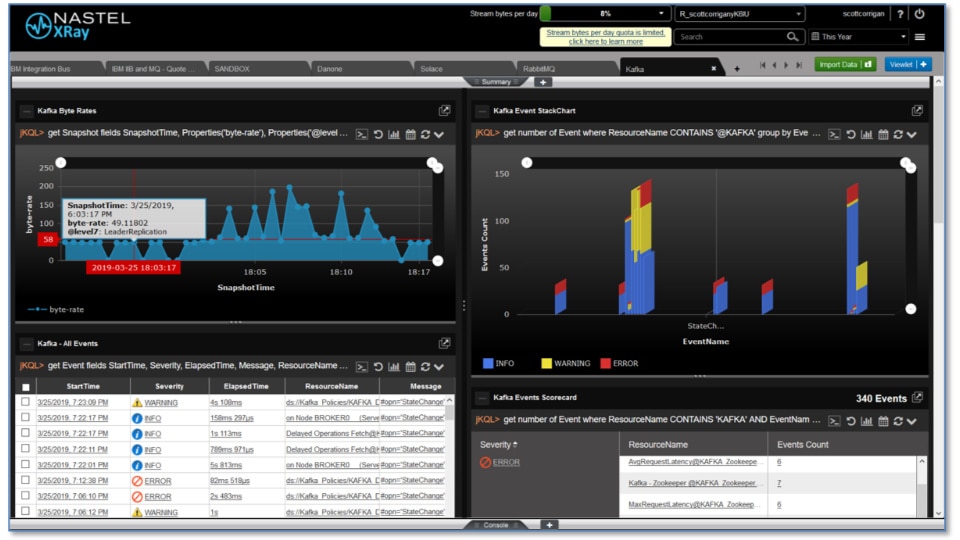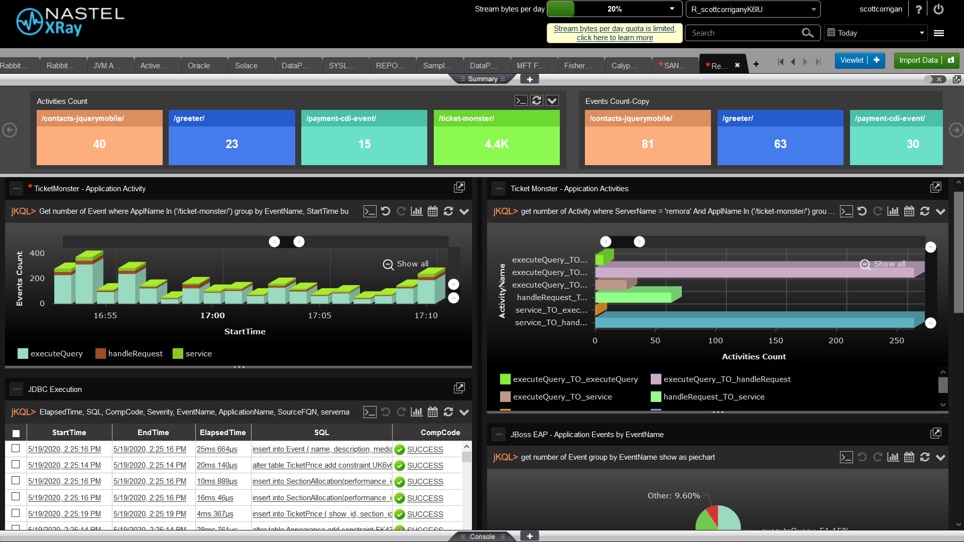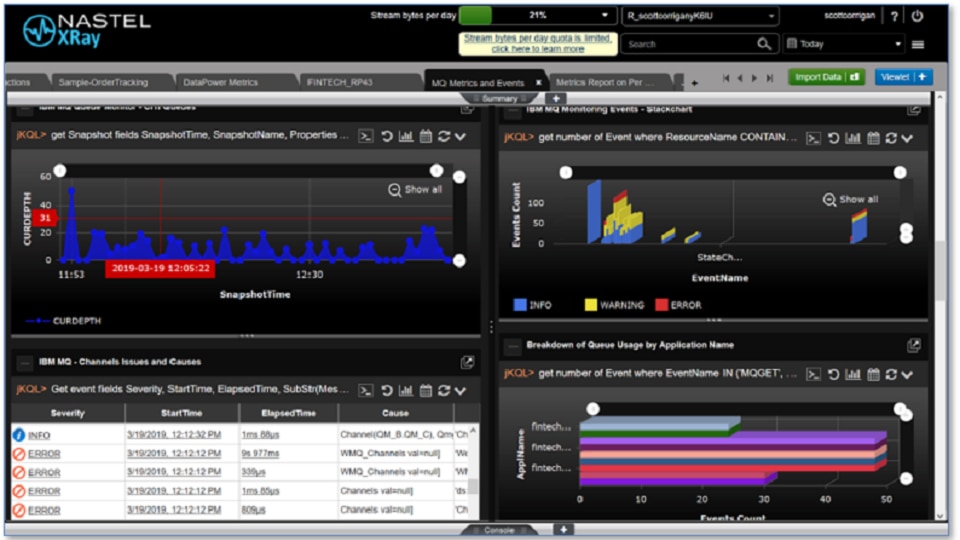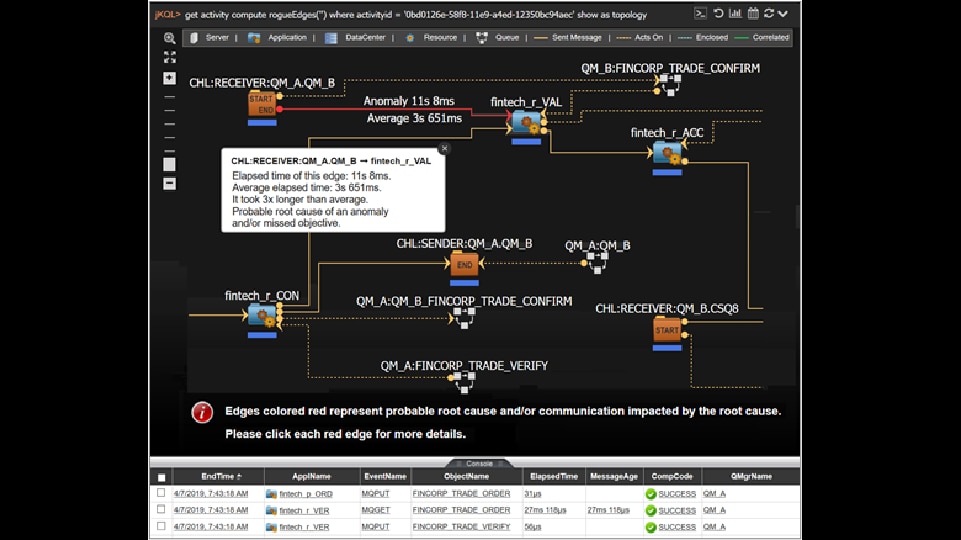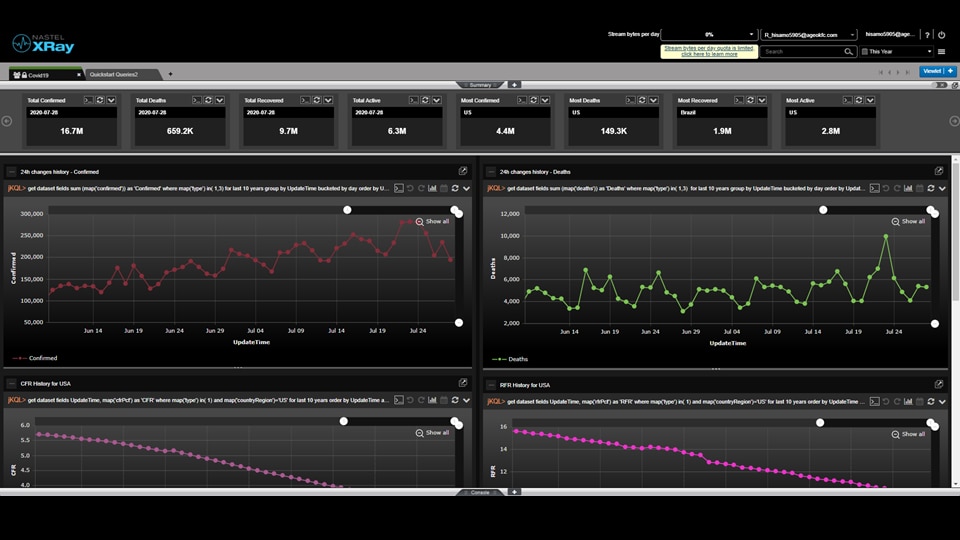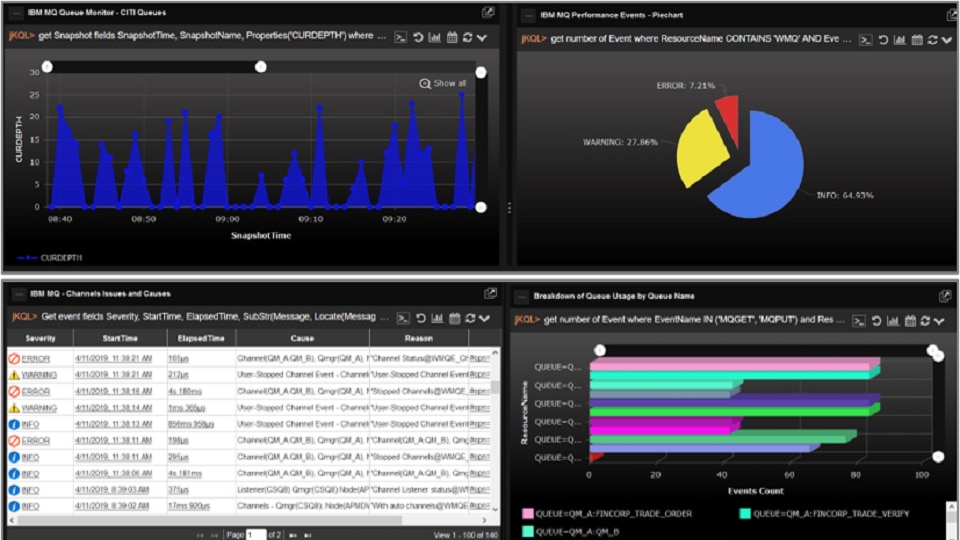 Nastel XRay an introduction to predictive analytics, reporting and visualization
Monitoring and Observability of Multiple Middlewares
IBM MQ, IIB/ACE, CICS, MFT, DataPower, Tibco EMS, Apache Kafka, RabbitMQ, ActiveMQ, Event Streams, log files, operating systems, Java and over 60 sources, both mainframe and distributed, on premise, in the cloud, hybrid and containers.
Root Cause Analysis
Reduce Mean Time to Repair and Recovery (MTTR) and improve MTTF. Provides an abstracted view, drilling down to a detailed analysis, of processes simplifying the identification of the root cause for complex process flows.
Transaction Tracking and Tracing
Track business transactions with alerting & reporting. End to end IT tracing for testing, debugging, root cause analysis, diagnostics and remediation.
Java Application Performance monitoring
End to end tracking and root cause analytics and reporting with bytecode instrumentation
Blockchain
Monitor Blockchain with Reporting, Analytics, and Search. Forensic searching & surveillance of entire transaction flows across blockchain at rest / in motion & non blockchain flows for payments, relationships, digital assets, etc.
Integration
Integrate and enhance existing SIEMs and ESMs such as Splunk, OpsBridge, ServiceNow and AppDynamics.
Regulatory & SLA Compliance
Business transaction tracking to ensure compliance with MiFID II, PSD2/Open Banking, and Dodd Frank ensuring and proving that transactions are processed within the required SLA time and avoid financial penalties. Monitor transaction flows for critical applications, including SWIFT, treasury operations, money market, interest rate trading, payments etc. Track messages across mainframe, distributed systems and applications to understand and report on the flow of the business.
Pricing summary
For customized configurations and pricing please contact cloud@nastel.com