Turbonomic


By Turbonomic Inc.
Certified enterprise ready
Ensures your applications always perform. Use Turbonomic with Red Hat OpenShift to achieve the speed, agility, and elasticity that DevOps and cloud native promise.
Turbonomic Application Resource Management (ARM) continuously and automatically makes application resource decisions to ensure that applications get what they need to perform, while minimizing cost, and maintaining compliance. Applications are critical to how users engage with your business. With Turbonomic software automatically managing application resources, you get all the benefits of IBM/OpenShift with continuous application performance.
Application-driven
Our software uses application demand as the driver for making resource decisions, ensuring continuous performance no matter how complex your applications or the infrastructure on which they run, whether on-prem, in the cloud, multiple clouds, or the edge.
Assuring Application SLOs with Turbonomic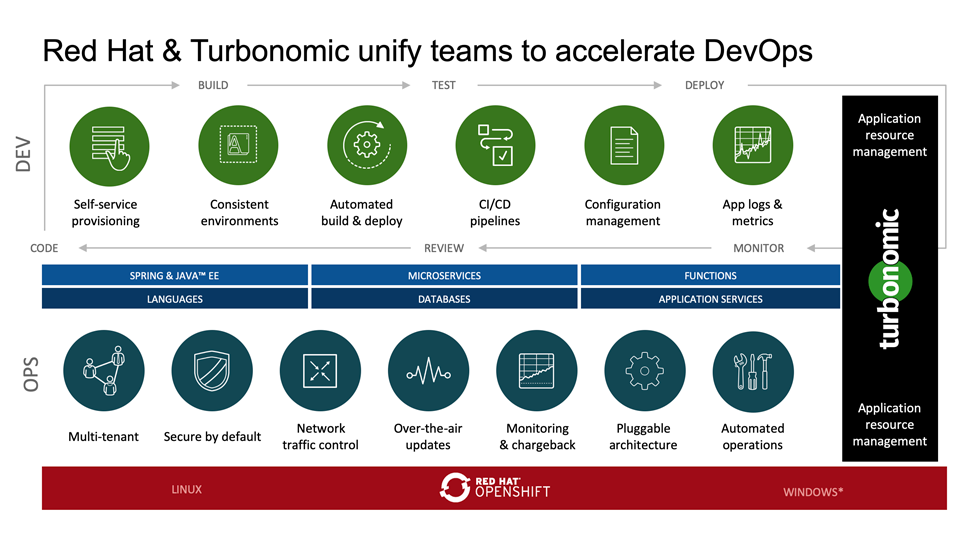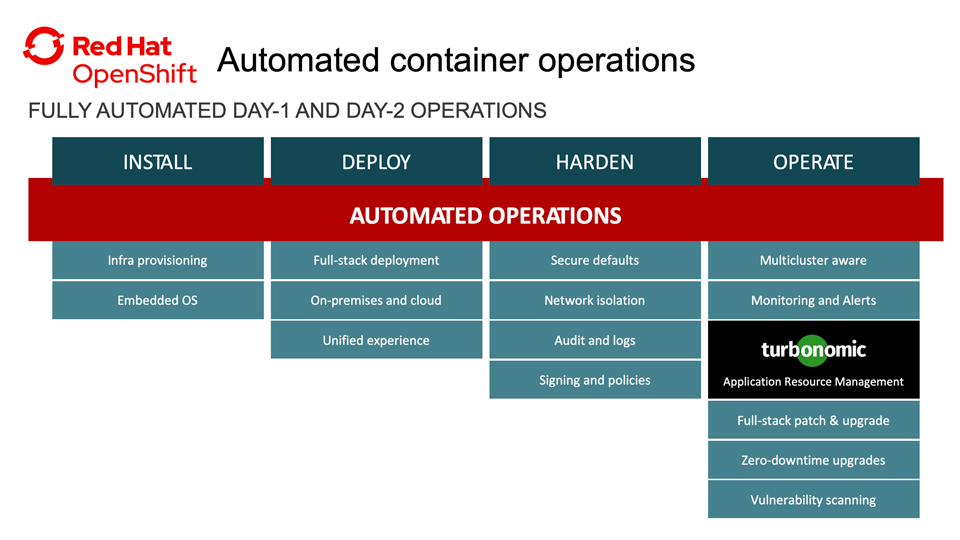 Top-down
Our software matches real-time application demands to the underlying supply of infrastructure. Your applications get exactly what they need when they need it. Alternative infrastructure-led approaches rely on over-provisioning and remain unable to assure performance.
AI-powered
Our software makes application resourcing decisions for you, automatically. It frees your teams from manual gruntwork, allowing them to have a more substantial impact and focus on business-critical modernization initiatives,
Full-stack visibility
Our analytics understand the relationships between applications, services, containers, pods, nodes/VMs, hosts, storage, and network. This full-stack stitching allows our software to make resource decisions that can and should be automated. It also provides a common context for AppDev, DevOps, SRE, Operations, and Executive teams as they modernize your applications.
Agentless, auto-discovery
Our lightweight virtual appliance discovers your applications and infrastructure in under an hour. Working through APIs, Turbonomic analyzes the data that's already being exposed by your platforms and tools to generate (and execute) the specific actions that continuously assure application performance.
Cloud & infrastructure agnostic
Supports all major hypervisors, AWS, Azure, as well as all upstream versions of Kubernetes anywhere, including OpenShift, Azure AKS, Amazon EKS, and Google GKE. Whatever technologies make up your application stack, Turbonomic is able to turn data into actions that drive continuous performance. See all integrations at turbonomic.com/product/integrations/
Performance at scale
Proven across 2,000+ customers, including 25% of the Fortune 500 and 8/12 of the top money center banks in North America. Applications and multicloud infrastructure are becoming increasingly complex. Our customers are using Turbonomic to control this complexity.
Pricing summary
Manage an unlimited number of workloads.
Automatically manage application resources to meet application response-time objectives.
Automatically optimize container platforms, including Kubernetes and PCF.
Integrate with self-service and workflow systems for initial workload placement.
Optimize performance and cost across public cloud compute and storage.
Optimize performance and efficiency in on-prem compute, storage, and network.
Integrate with and take actions for Database Servers (for example, Oracle, MS SQL Server).
Define and adhere to compliance policies (HA, affinity, anti-affinity, licensing, custom groups).
Model environment changes for capacity planning and migration.
Additional resources
Want more product information? Explore detailed information about using this product and where to find additional help.
Reviews
Read what others are saying about this product in our review section.
Eric W.

Systems Administrator at CityServiceValcon

Review source: Invitation from G2 on behalf of a vendor or affiliate

Review source: Invitation from G2 on behalf of a vendor or affiliate

"Turbonomic maximizes utilization; reduces waste"

What do you like best?

It prevents over and under provisioning of VM's automatically. It also helps in workload placement and storage optimization. In more than one case it located orphaned, and temporary files in our infrastructure that were consuming an excessive amount of space unnecessarily.

What do you dislike?

The scheduler for actions that require reboots could be implemented better. Identifying the proper way to handle non disruptable and selectively disruptable workloads can be a challenge. Also, I think the VM targeting could be improved on . Writing queries to target VM's while very powerful, is not the most intuitive method of targeting resources. While the product now does support cloud platform management, as of the time I wrote this, it only supports VM infrastructure in the cloud. We do not use this currently as we have chose to stick to service offerings only in the cloud and therefor we cannot yet benefit from the cloud and multi cloud offering.

Recommendations to others considering the product:

I would encourage getting additional training and implementation services. The value the Turbonomic team can provide on how to get the most out of the product is well worth the investment. In many cases they can offer additional assistance post implementation.

What problems are you solving with the product? What benefits have you realized?

We reduce wasteful spending and performance issues by automatically right sizing VM's and optimizing workload placement. This has allowed us to run a more efficient datacenter in many ways, from consumption, to new hardware purchases, to future hardware planning, to labor hours consumed not having many of the aspects managed manually.

Anonymous

Review source: Invitation from G2 on behalf of a vendor or affiliate

Review source: Invitation from G2 on behalf of a vendor or affiliate

"Useful tool to track VM's and VMH resources"

What do you like best?

This system pulls data from the VCenter's its connected with and monitors the health and resources of each VM, the hosts and storage as well as the hardware resources including our converged infrastructure and make and can automatically apply those changes if desired.

What do you dislike?

At this time I am happy with the system in what it monitors. No issues with it.

Recommendations to others considering the product:

IT fit our needs to monitor individual VM systems for metrix of server health and performance. Tracks performance and does automated VMotion placement ot balance workload within the cluster's it watches. Makes recommendations of storage changes to balance performance and storage congestion. Can analyze resources used on-prem servers to give a forecasted cost to a cloud instance.

What problems are you solving with the product? What benefits have you realized?

Managing storage performance and balancing capacity and potential need for more resources. We have some very large high demand SQL servers that consume as much as 24TB allocated to a single SQL server. Spreading that data demand across the LUNS and not hitting hotspots of performance is a challenge that Turbonomic keeps track of

Jeff Z.

Lead Infrastructure and Systems Engineer at P.F. Chang's China Bistro Inc.

Review source: Invitation from G2 on behalf of a vendor or affiliate

Review source: Invitation from G2 on behalf of a vendor or affiliate

"Finds waste and gives that power back to the work loads that need it."

What do you like best?

I love that it finds over provisioned items and right sizes them as well as the other direction, finding servers that need more power and giving it to them. All along making your clusters much more efficient, saving on cost, and improving performance.

What do you dislike?

Just want it to exand into doing this for more PaaS environments in Azure.

What problems are you solving with the product? What benefits have you realized?

Avoided costly upgrades in data center by rightsizing, now we have more than enough power for existing workloads and room for growth. it is also very good at spotting this in Azure as well, helping to reduce cloud costs. Planning tool helps decisions for what goes to cloud.

Mark K.

Senior Director IT at BARBRI Group.

Review source: Invitation from G2 on behalf of a vendor or affiliate

Review source: Invitation from G2 on behalf of a vendor or affiliate

"Turbonomics Ability To Scale Up And Down On Demand Allows For Maximum Cost Efficiency"

What do you like best?

Turbonomic provides insight and recommendations into our Azure cloud configurations designed to allow optimum efficiency and cost. By analyzing the load on demand, the product can sense when more resources are needed as well as when resources are being wasted. In the first month, we ran this as a POC. It saved us over 5k a month in costs by implementing its recommendations. The product continues to save us money but constantly updating its pricing files from Azure with current promotions and regional costs.

What do you dislike?

More Azure features are needed. They started with AWS and are now ramping up Azure features. We would like to see more visibility into reserved instances in Azure.

Recommendations to others considering the product:

Make sure you do a POC first so you can see the benefits this product will bring.

What problems are you solving with the product? What benefits have you realized?

Its ability to scale up and down on demand allows for maximum cost efficiency. By dynamically analyzing our loads, the product can sense if resources need to be adjusted. It can also tell if another configuration of the same power would be cheaper in another region.

Scott J.

Senior Cloud Architect

Review source: Invitation from G2 on behalf of a vendor or affiliate

Review source: Invitation from G2 on behalf of a vendor or affiliate

"Great product, its almost set and forget"

What do you like best?

I personally like the fact that once you have your rules defined you really don't have to do any thing else with it, its automation handles the majority of your needs on its own. The fact that it isn't threshold based also adds great flexibility as it guarantees the optimal usage across everything available.

What do you dislike?

My only detractor is the lack of custom reporting that is available in the current version. They are supposed to be adding that feature back in in a future version.

Recommendations to others considering the product:

Just put it in and give it a try in read-only mode and see what it recommends. You would be surprised what feedback you get from it within 30 minutes

What problems are you solving with the product? What benefits have you realized?

Over allocation and continual right sizing needs of virtual machines. We have allowed Turbonomic to handle all sizing using its automation so when we have requests we simply tell folks that its handled objectively will size as appropriate. It has cut our workload in this area by 95%