Traefik Enterprise Edition


Traefik Enterprise Edition
By Traefik Labs
Certified enterprise ready
A cloud-native load balancer and ingress controller that eases networking complexity at scale. The solution is optimized for OpenShift.
Traefik Enterprise Edition is a distributed, and highly available edge routing solution built on top of the open source Traefik and natively integrates with Red Hat OpenShift to 1/ Load balance any applications and easily scale out to meet production traffic needs 2/ Secure services with end-to-end network and application encryption 3/ Provide end-to-end monitoring and real-time tracing for better insight into application uptime and performance
Routing & Load Balancing
Support for any many protocols and traffic management scenarios HTTP, HTTP/2, TCP, UDP, Websockets, GRPC / Mirroring / Canary Deployments / Stickiness / Active health checks
Traefik Enterprise Edition Demo Video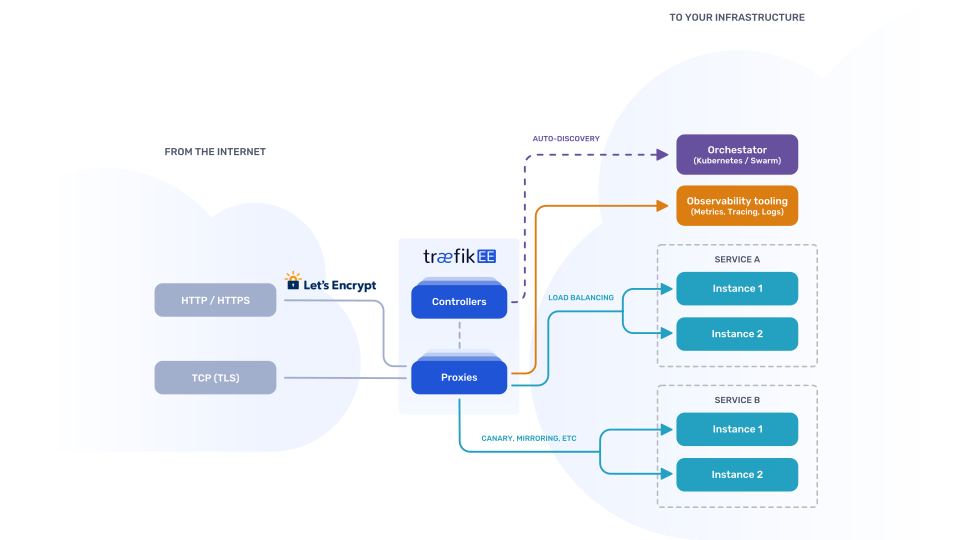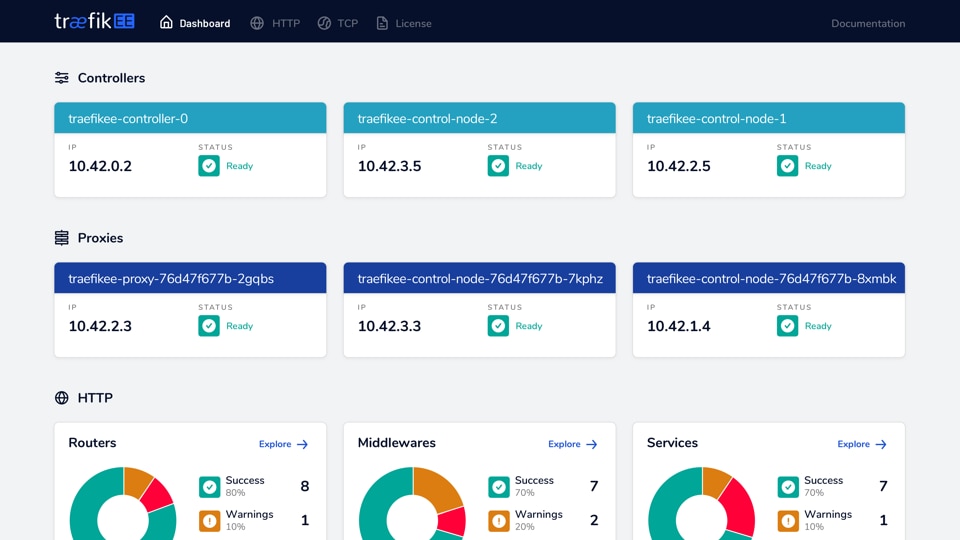 Clustering
Ensure scalable and reliable deployments: Automatic cluster deployment through CLI / High Availability / Scalability / Distributed Let's Encrypt / Distributed In Flight Request / Cluster-Wide Dashboard
Security
Put security at the forefront with authentication and encryption: LDAP Authentication / JWT Authentication / oAuth2 / HMAC Key / Automatic HTTPS / Distributed Let's Encrypt / Unlimited Let's Encrypt certificates / Custom certificates / Encrypted Cluster Communication / Distributed Rate Limiting (per IP, per Host, per Header)
Dynamic Configuration
Automatically discover and map all services: Services Auto-Discovery (Kubernetes, Docker Swarm, Red Hat OpenShift, Rancher, Amazon ECS, Key Value Stores) / Middlewares
Monitoring
End-to-end visibility for better insight into application uptime and performance; simplify operations and troubleshooting with real-time observability in dynamic environments: Tracing system (Jaeger, Open Tracing, Zipkin) / Real time traffic metrics (Datadog, Graphana, InfluxDB, Prometheus, StatsD)
Smooth Operations
Centrally manage cluster deployment from a single pane of glass: Remote CLI, Configuration deployment, Backup & Restore
Additional resources
Want more product information? Explore detailed information about using this product and where to find additional help.