Tackle Cloud Marketplace Platform


Tackle Cloud Marketplace Platform
By Tackle.io
Tackle's Cloud Marketplace Platform gives you everything you need to successfully get listed, start selling, and scale your Marketplace operations.
Delivery method
SaaS
This product is a pure SaaS offering and does not require any additional software prerequisites.
Tackle's Cloud Marketplace Platform drastically reduces your time to list and sell products on Red Hat Marketplace with zero engineering resources required. For custom pricing, EULA, or a private contract, please contact hello@tackle.io for a private offer
Smart Onboarding
Align internal stakeholders and quickly get your listing content customized and ready for the Marketplace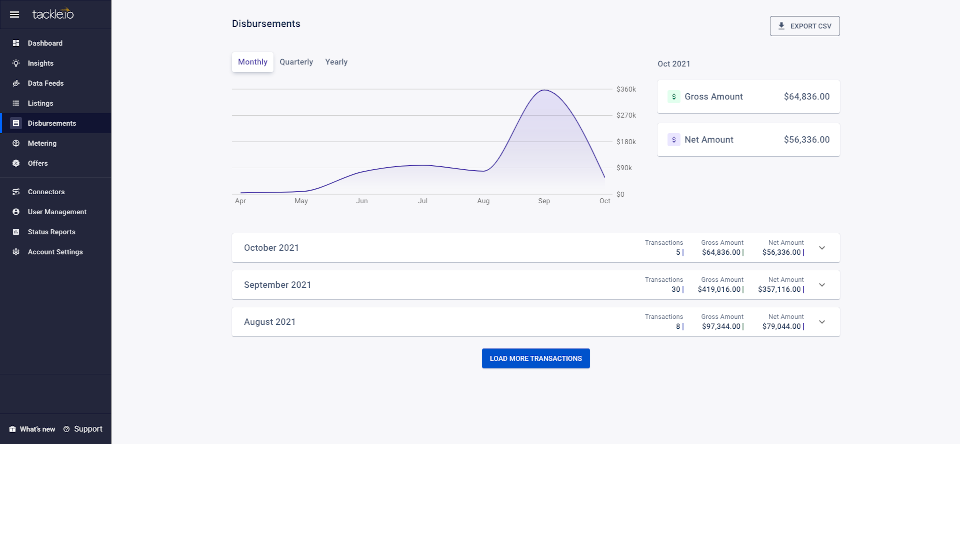 Listing Management
Manage the listing and API communication with Red Hat
Order Notification
Consolidate communications so that you get a simplified and actionable notification when a transaction occurs
Marketplace Data Feeds
Leverage easy-to-use reports to understand your Red Hat Marketplace orders, customers, fees, and revenue all in one platform
Tackle Offers
Provide sales leaders, finance, and operations teams with an easy way to send private offers, track their status, and summarize all private offers in a single view
Metering Abstraction w/ Transaction APIs
Create a unified API and user experience across clouds for pay-as-you-go or additional usage charges to customers
Slack Connector
Receive real-time alerts in Slack of Marketplace activity on your listings and give all stakeholders visibility into events as they happen
Marketplace Insights
Get advanced reporting and insight to understand sales across listings and Marketplaces, tracking renewals, contracts, revenue, and fees
Additional resources
Want more product information? Explore detailed information about using this product and where to find additional help.