Robin Cloud Native Storage


Robin Cloud Native Storage
By Robin.io
Certified enterprise ready
Robin Cloud Native Storage is a purpose-built container-native storage solution that brings advanced data management capabilities to OpenShift.
Robin Cloud Native Storage brings high performance storage and application-aware data management to OpenShift. It is a Red Hat certified operator that installs natively on OpenShift and delivers block and file storage for stateful applications such as databases, data analytics, and AI/ML applications. Robin CNS provides a simple API for developers and DevOps teams so that they can easily manage stateful applications without having to become storage experts.
High performance at scale
Robin CNS delivers consistent high performance, even as the number of applications, and the size and number of persistent volumes grows.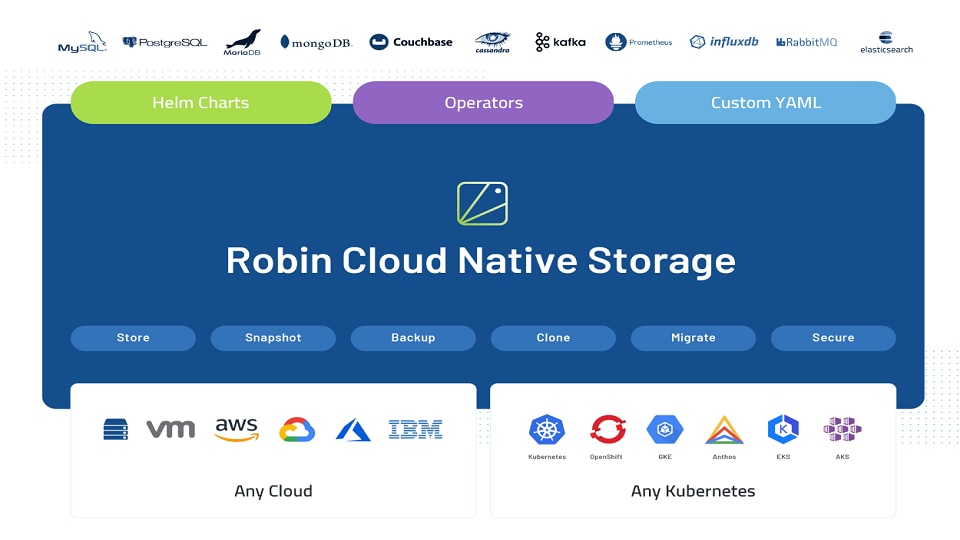 High availability for data
Synchronous replication across failover domains such as disks, node, racks, data center, and availability zones provides HA.
Application-level backups
Protect entire applications (data+metadata+config) with backups to the cloud and recover applications with a single command.
Fast & lightweight snapshots
Robin CNS provides application-aware snapshots to help you quickly rollback to a previous point-in-time.
Multi-cloud portability
Easily move complex stateful applications between OpenShift clusters on-prem and on public clouds.
Dynamic scaling
Add or remove storage capacity as your needs change.
Pricing summary
Licensed for production use
Unlimited node and storage capacity
Additional resources
Want more product information? Explore detailed information about using this product and where to find additional help.