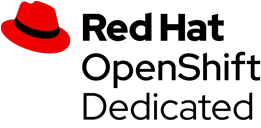 Red Hat OpenShift Dedicated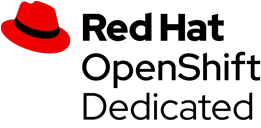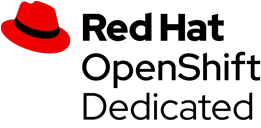 Red Hat OpenShift Dedicated
By Red Hat
Managed Red Hat OpenShift clusters on AWS or Google Cloud backed by 24x7 Premium support and a 99.95% uptime SLA.
Delivery method
SaaS
This product is a pure SaaS offering and does not require any additional software prerequisites.
Reduce operational overhead and get your applications to market quickly with an enterprise Kubernetes platform professionally managed by Red Hat, but installed and managed on your AWS or Google Cloud account. OpenShift Dedicated includes Linux® operating system, container runtime, networking, monitoring, container registry, authentication, and authorization solutions. It supports connecting to a local or cloud datacenter, implementing a more secure, flexible, hybrid cloud IT strategy.
Professionally managed infrastructure
Our proven and experienced Red Hat OpenShift operations team manages infrastructure configuration, maintenance, and security. There are no virtual machines (VMs) to operate, and no patching is required.
Build and scale applications with confidence with Red Hat OpenShift Dedicated
Highly available
OpenShift Dedicated comes with a 99.95% availability SLA and 24x7 Premium support.
Flexible pricing and consumption
Leverage your existing cloud provider agreements for infrastructure costs. Scale clusters as you go and pay only for what you need.
Self-service
Use OpenShift Cluster Manager to deploy, view, scale, and delete clusters, configure optional components, and schedule upgrades.
Account prerequisites
Prerequisites: 1. Link your Red Hat account to your account in the Red Hat Marketplace. 2. Configure your AWS or Google Cloud account as described in Requirements for Customer Cloud Subscriptions (https://www.openshift.com/dedicated/ccs). In addition, with the Customer Cloud Subscription model for OpenShift Dedicated infrastructure billing, customers pay their cloud infrastructure vendor directly for cloud resource usage.
Terms and conditions
The terms and conditions for Red Hat OpenShift Dedicated are the Enterprise Agreement and Appendix 4 set forth at www.redhat.com/agreements.
Pricing summary
Customer Cloud Subscription
Additional resources
Want more product information? Explore detailed information about using this product and where to find additional help.