kPow for Apache Kafka


By Operatr.IO
Certified enterprise ready
Keep Kafka simple with kPow, the essential Monitoring, Management and Learning Tool. kPow unlocks full potential of Apache Kafka® and AMQ Streams saving developer hours, increasing productivity and facilitating the rapid resolution of Kafka queries.
The kPow toolkit is for teams who build enterprise systems powered by Apache Kafka®. kPow gives you x-ray vision for Kafka, providing immediate in-depth access to your data and powerful management features that simplify and streamline delivery. Benefit from lightning-fast search with KJQ filters, Schema Registry support, Kafka Connect visualisation and control, multi-dimensional lag monitoring, and enterprise integrations including OKTA, SAML, LDAP, RBAC, Prometheus, and more.
X-Ray Vision for Apache Kafka
kPow provides instant visibility into Kafka brokers, topics, groups, partitions, offsets, and more. Quickly identify active groups and topics with our derived insights and understand how clusters and applications are performing. The kPow toolkit surfaces all the data Kafka makes available and computes metrics without using JMX, storing the results within your cluster. One installation of kPow can manage multiple Kafka clusters, Schema Registries, and Connect clusters.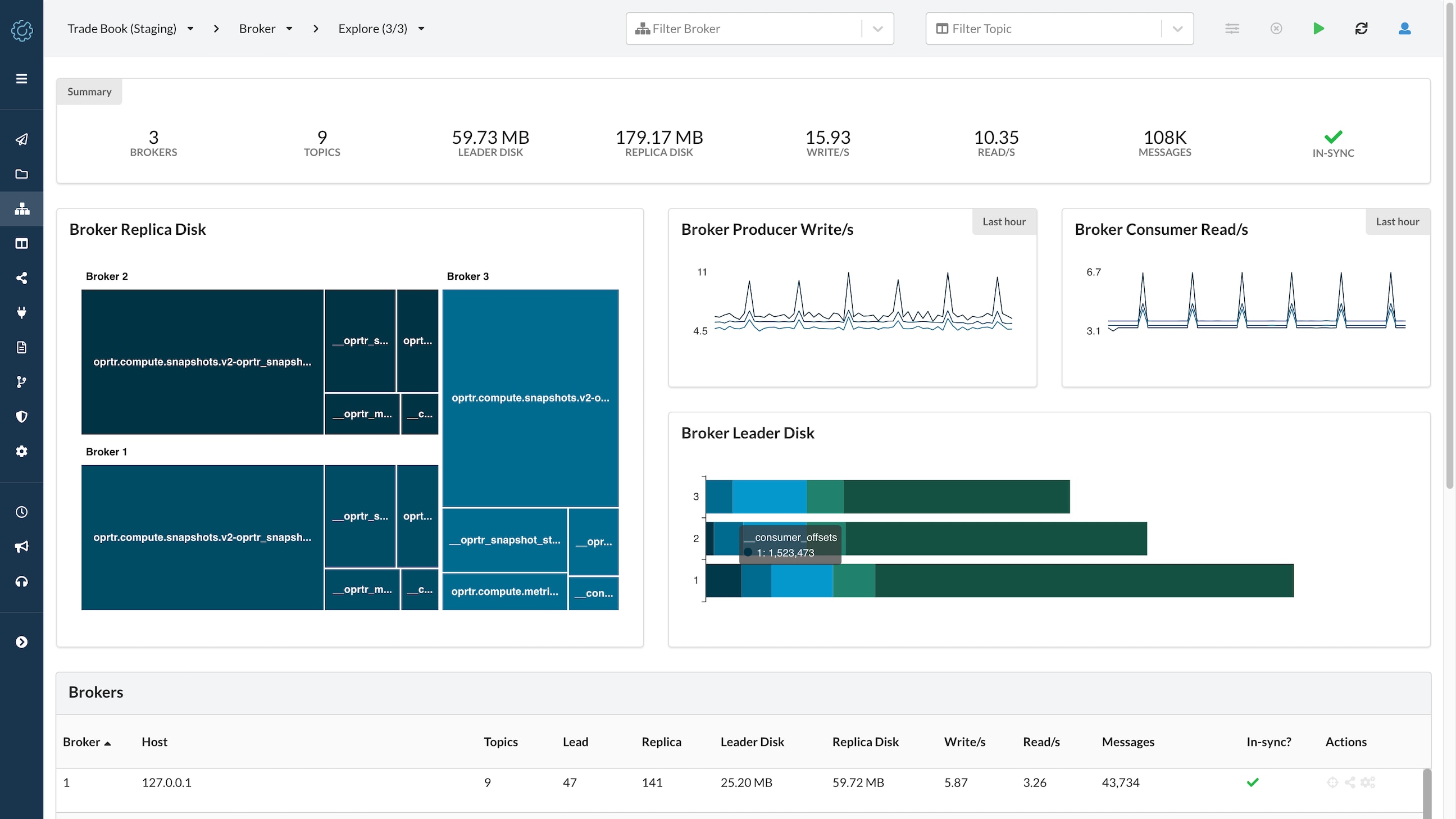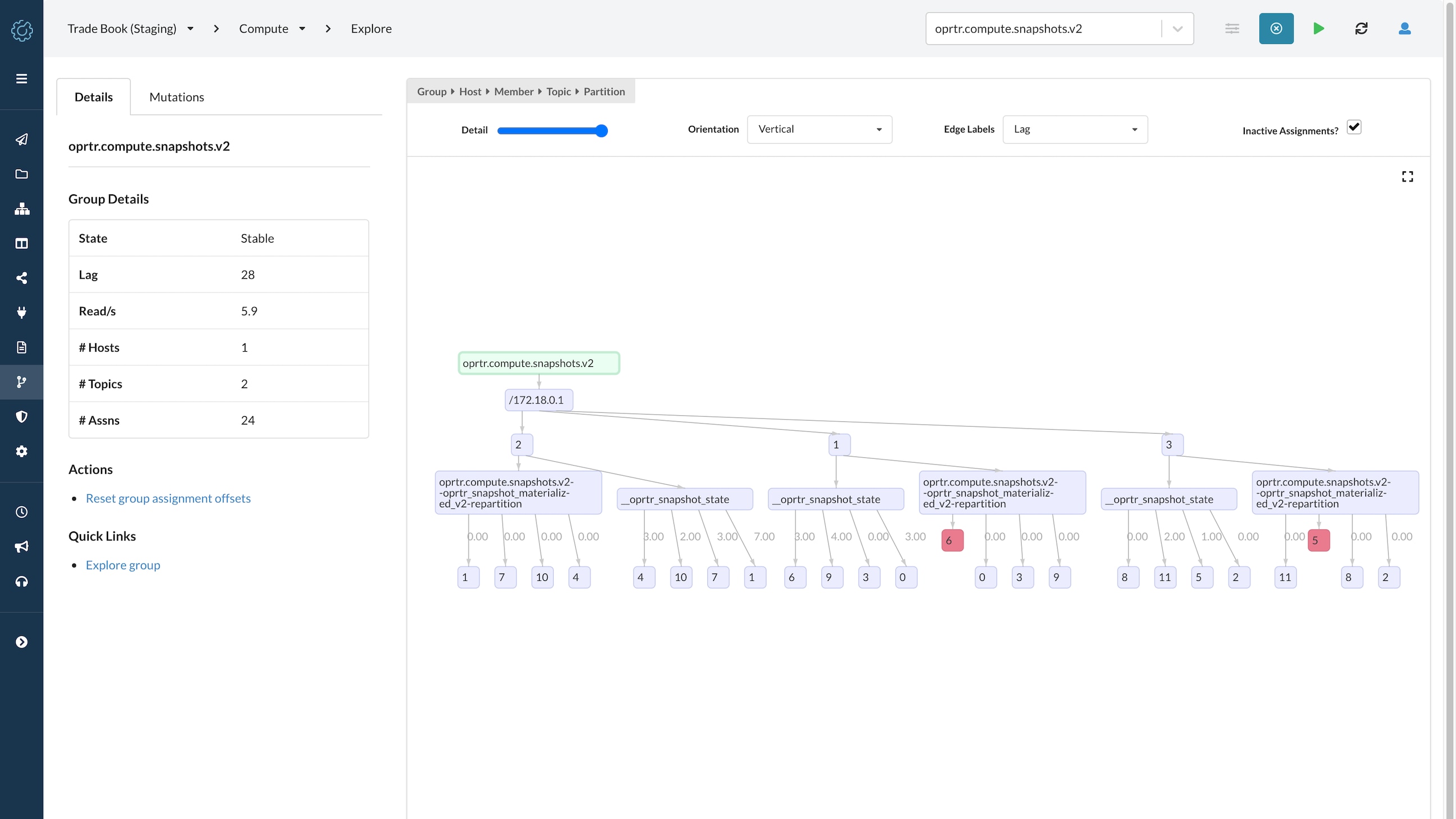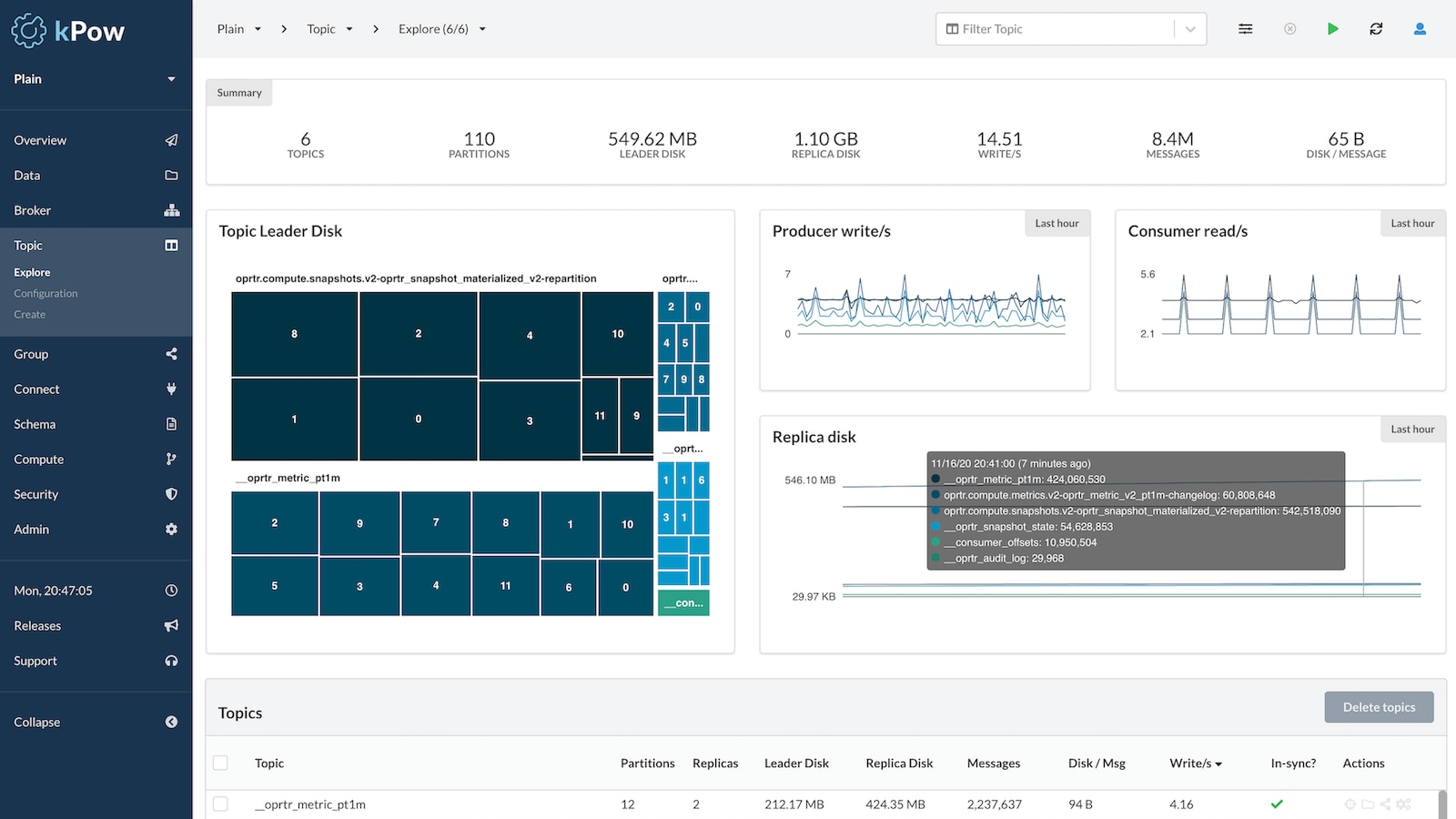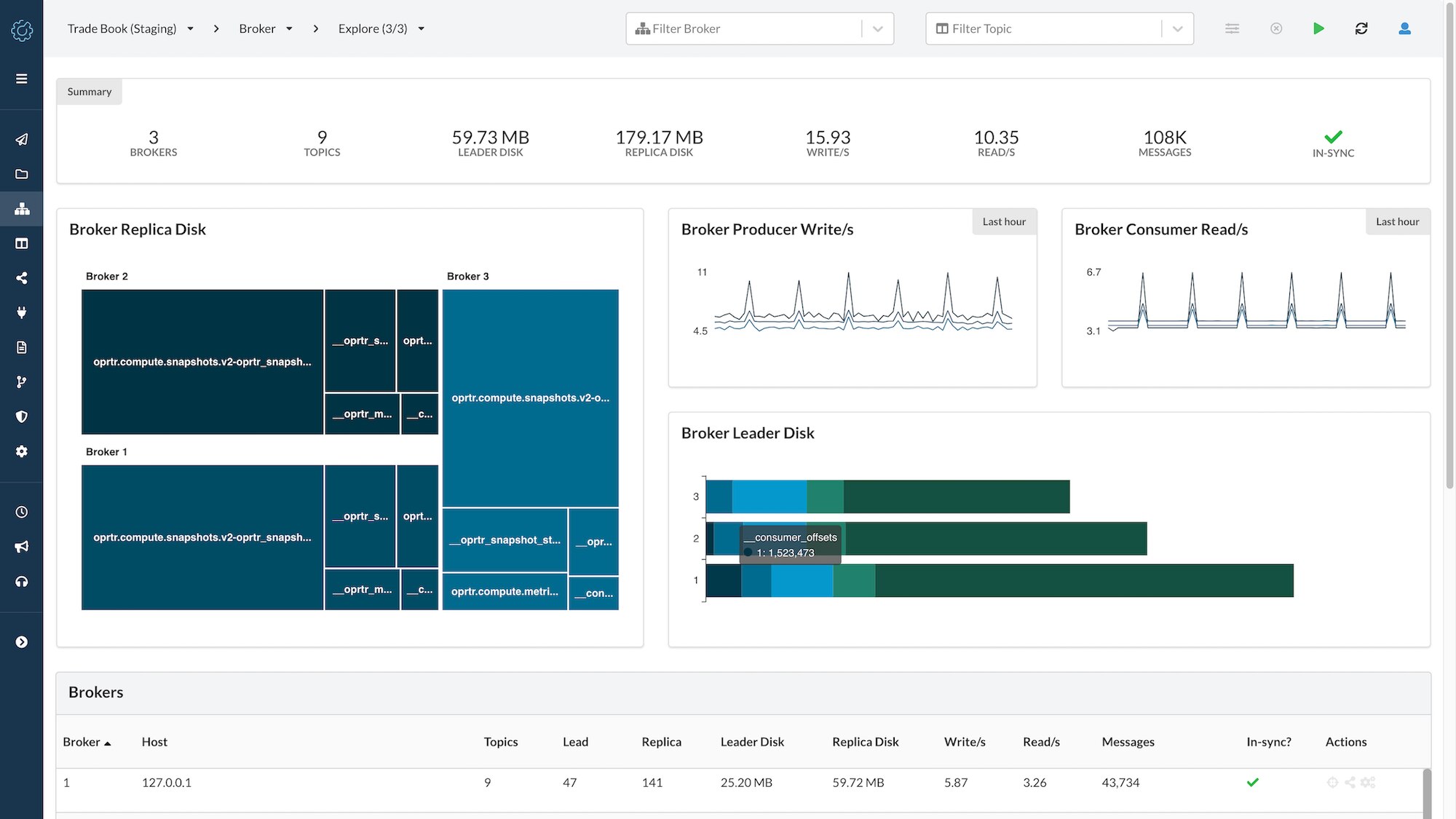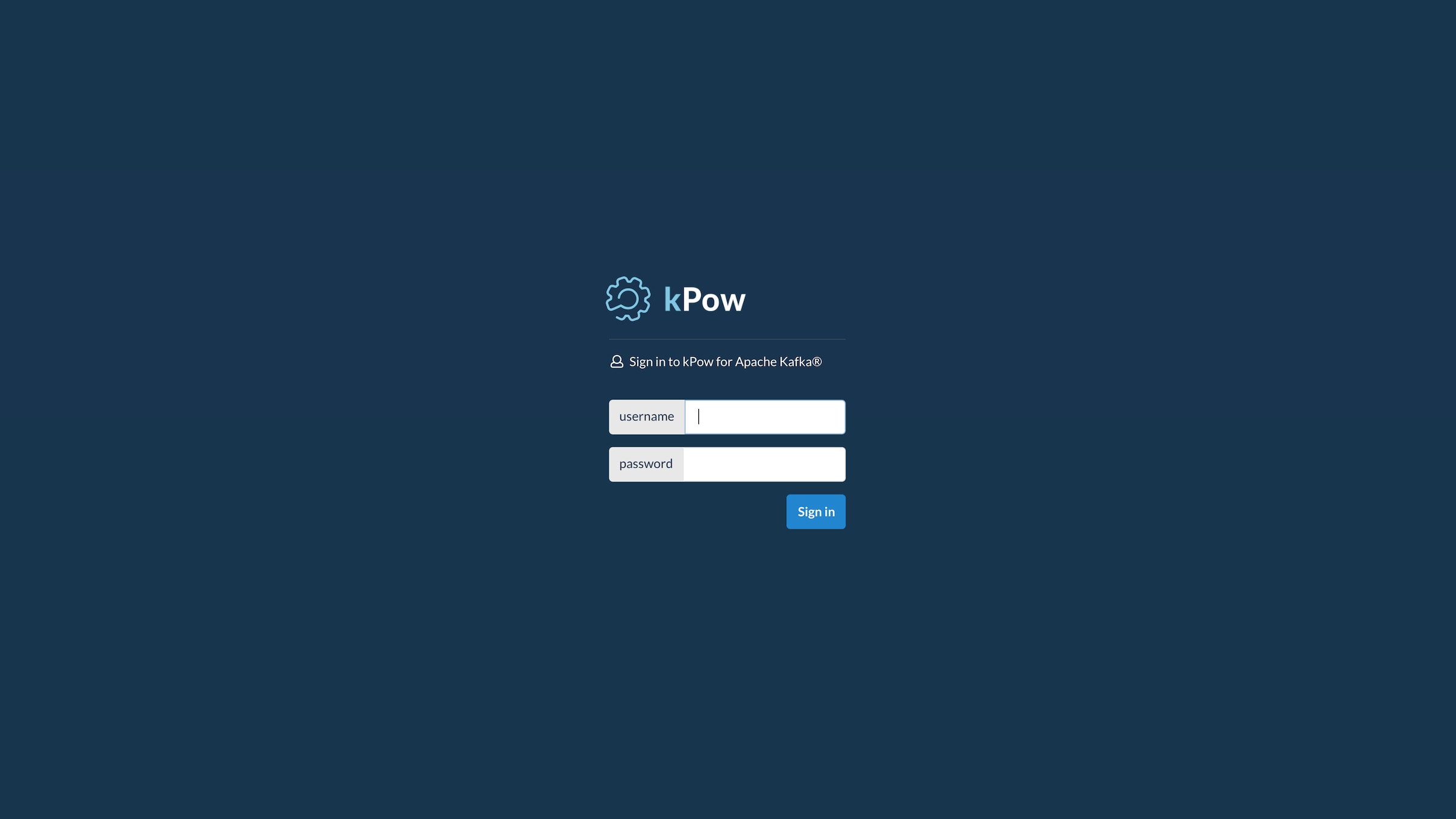 Explore your Data
Quickly view and produce messages on topics and search tens of thousands of messages a second with kPow's unique implementation of JQ-like queries for Kafka. Interrogate data in the kREPL with the power of JQ and Clojure combined to quickly gain insight into your topics. kPow supports a full set of standard serdes, including AVRO support when configured with a Schema registry.
Schema Registry Support
kPow provides full Schema Registry integration, allowing you to explore, create, view, edit, update, diff, and delete Avro schema. Manage schema changes quickly with the option to validate before updating. Gain insight into historical schema changes with full access to every version of every schema subject and an option to detect and remove orphaned schemas.
Kafka Connect Control
kPow integrates with Kafka Connect, allowing you to monitor and manage your connectors and tasks, and create/modify connectors within Operatr with embedded documentation and export options (cURL, JSON). kPow provides insights into your running Connect cluster: - Task statusmap showing you the state of your connector tasks over the last hour - Sinks: insights into the underlying consumer groups (lag, read/s) - Sources: insights into the topics being written to (total messages, write/s)
Multi-Dimensional Lag Monitoring
Understand how your Apache Kafka applications are performing with deep multi-dimensional metrics available in just a few clicks. Drill-down into message consumption and lag by broker, topic, group, and consumer host with precise information available at the consumer group assignment level.
User SSO and Role Based Access Control
kPow supports fine-grained control of user access to Kafka resources and actions via configurable role-based access controls that integrate with your SSO provider of choice, including Okta, Github, Azure AD, AWS SSO, or SAML. kPow also supports HTTPS connections out-of-the-box.
Simple, Secure and Self-Contained
kPow is a single Docker container that connects to your cluster like any Kafka Consumer or Producer. You can configure and deploy the toolkit in the same way as your other Kafka services, and no JMX or Zookeeper access is required. The toolkit is built entirely from Kafka with no other dependencies, and all data stays within your network. Within minutes of installation, your team will be able to leverage their existing knowledge to rapidly resolve Kafka queries.
Work Smarter
kPow streamlines your team's ability to identify, share, explain, and fix production bugs. It is simple to secure for remote access, has shareable URLs, and is configurable with Prometheus for alerting, long term metrics and offset monitoring. There is nothing new to learn and no "kPow" specific rules. If you understand Kafka, you'll instantly be able to use our toolkit to aid with the development of your systems.
Pricing summary
Includes all kPow features and functionality
Get configured and running in minutes
Compatible with Red Hat AMQ Streams and Apache Kafka 1.0+
Additional resources
Want more product information? Explore detailed information about using this product and where to find additional help.