GigaSpaces InsightEdge


By GigaSpaces Technologies Inc
Certified enterprise ready
Runs services and machine learning models in production, at extreme speed and scale, across on-premise, cloud and hybrid.
Powers data-driven decision making at the speed and scale of business. InsightEdge is the fastest big-data analytics processing platform to run services and ML models in production, at scale for real-time decision making on streaming, transactional and historical data. The in-memory platform helps enterprises introduce applications that ingest, process and analyze data at extreme speeds, across any environment to enhance operations, adhere to regulations and improve customer experience.
Extreme Speed
Ultra-low latency, high-throughput transaction, stream and analytical processing. The co-location of data, applications and analytics reduce data movement and OS & network overhead. This distributed architecture accelerates workflow for time sensitive applications that require extreme performance. You get real-time analytics & ML, accelerate access to data lakes & data warehouses by 100X with intelligent indexing for multi-tier data storage architectures, & accelerate BI Visualization by 80X.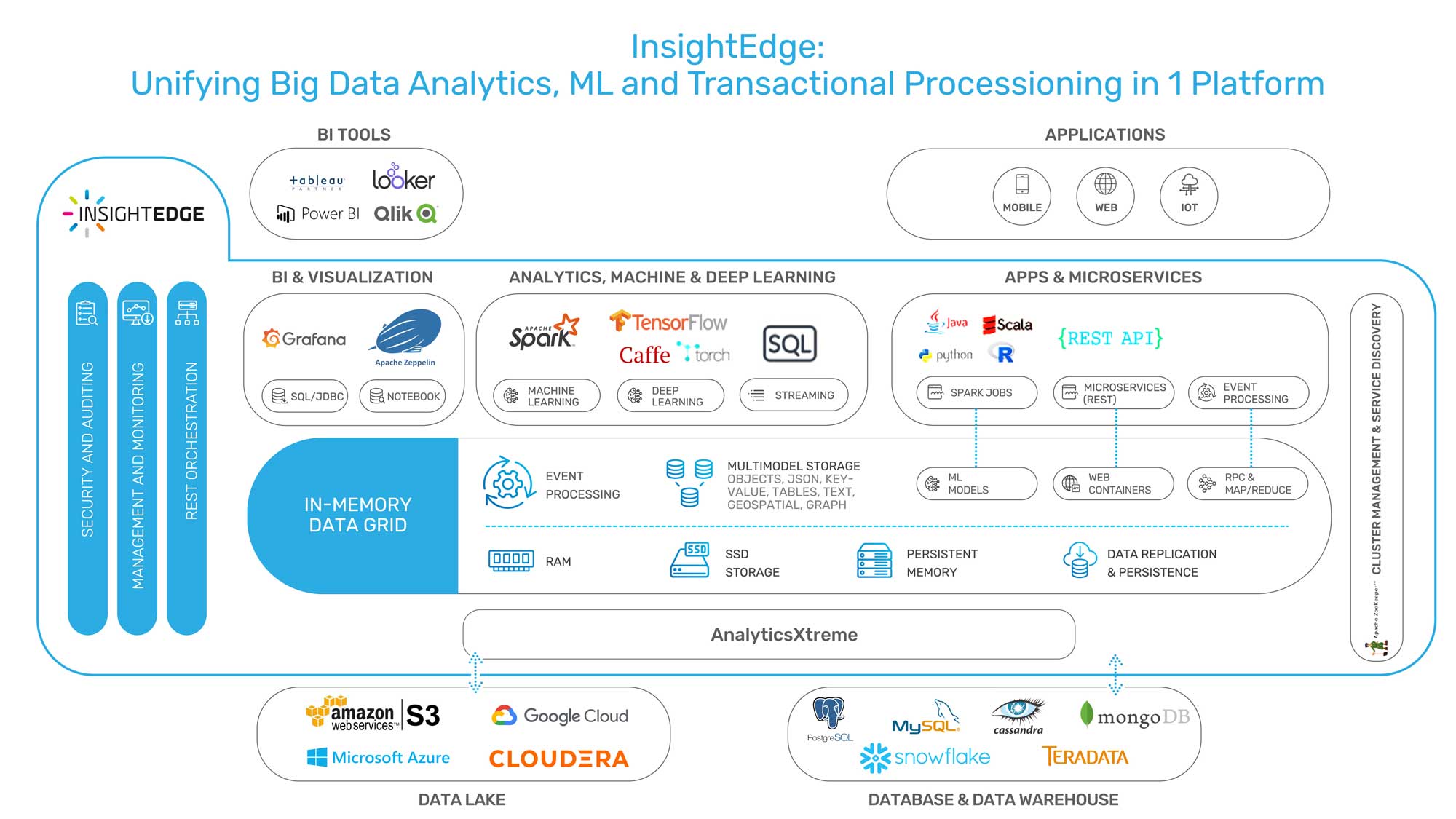 InsightEdge AnalyticsXtreme: Accelerating Data Lakes by 100X - Demo
InsightEdge and Informatica: Real-time Credit Approval - Demo
Leveraging Deep Learning for an Automated Contact Center-Demo
Event-driven Analytics and ML
At the core of InsightEdge, event-driven analytics and function-as-service are utilized in an efficient manner in order to trigger analytical workflows. Event triggers, notifications and FIFO messaging at extreme performance are provided in the comprehensive solution.
Peak Handling with Elasticity and Linear Scale
Elasticity simplifies deployment across multiple machines where resources such as Memory and CPU are automatically provisioned based on requirements. Peak events are handled seamlessly. InsightEdge offers linear scalability of distributed data stores and grid processing for unencumbered scaling and concurrency, as your data and number of users grow.
Any Data Model
InsightEdge supports multiple data types - structured, semi-structured, and unstructured, which eliminates the need for separate platforms that are limited to certain models. This is ideal for data virtualization and the requirements for a single source of truth. Some of the data structure supported are: Key/Value pairs, Table, Object, Document, Geo Spatial, Text, Graph, and Time-Series.
Optimized TCO
Simplified architecture eliminates cluster and component sprawl complexity; radically minimizing the amount of moving parts on cloud, on-premise, and hybrid environments. Intelligent multi-tiered data management across RAM, Persistent Memory, SSD, data lakes and data warehouses lets enterprises control where data is stored according to the applications' business logic.
Proven High Availability
Mature battle-tested platform for mission critical businesses. Highly available with up to 5 nines reliability and auto healing for zero data loss and zero downtime. InsightEdge is designed to handle the following High Availability and Disaster Recovery with: Optimized Fast Data Replication, Automatic Self-Healing. and Multi-Region and Multi-Cloud Support.
Multi-Region Data Replication
Enterprises can seamlessly replicate and share data between multiple, geographically-distributed, active clusters for global activity in either active-active or active-passive topologies. Each primary partition replicates in a synchronous manner to its backup partition, as well as in an asynchronous manner to the other InsightEdge cluster for: Network efficiency, Resiliency, and Privacy and Security.
ML on Live (mutable), Transactional and Historical Data
InsightEdge blends real-time decision making with historical data, even if the historical data is stored in external data repositories (file systems and object stores). Applications can leverage real-time machine learning and deep learning models on both hot mutable data combined with historical data from a unified API. Intelligent indexes, stored in-memory, accelerate data lakes and warehouses by 100X for faster and smarter decisions.
Pricing summary
Intelligent tiered storage available.
Additional resources
Want more product information? Explore detailed information about using this product and where to find additional help.