GigaSpaces InsightEdge
Powers data-driven decision making at the speed and scale of business. InsightEdge is the fastest big-data analytics processing platform to run services and ML models in production, at scale for real-time decision making on streaming, transactional and historical data. The in-memory platform helps enterprises introduce applications that ingest, process and analyze data at extreme speeds, across any environment to enhance operations, adhere to regulations and improve customer experience.
Extreme Speed
Ultra-low latency, high-throughput transaction, stream and analytical processing. The co-location of data, applications and analytics reduce data movement and OS & network overhead. This distributed architecture accelerates workflow for time sensitive applications that require extreme performance. You get real-time analytics & ML, accelerate access to data lakes & data warehouses by 100X with intelligent indexing for multi-tier data storage architectures, & accelerate BI Visualization by 80X.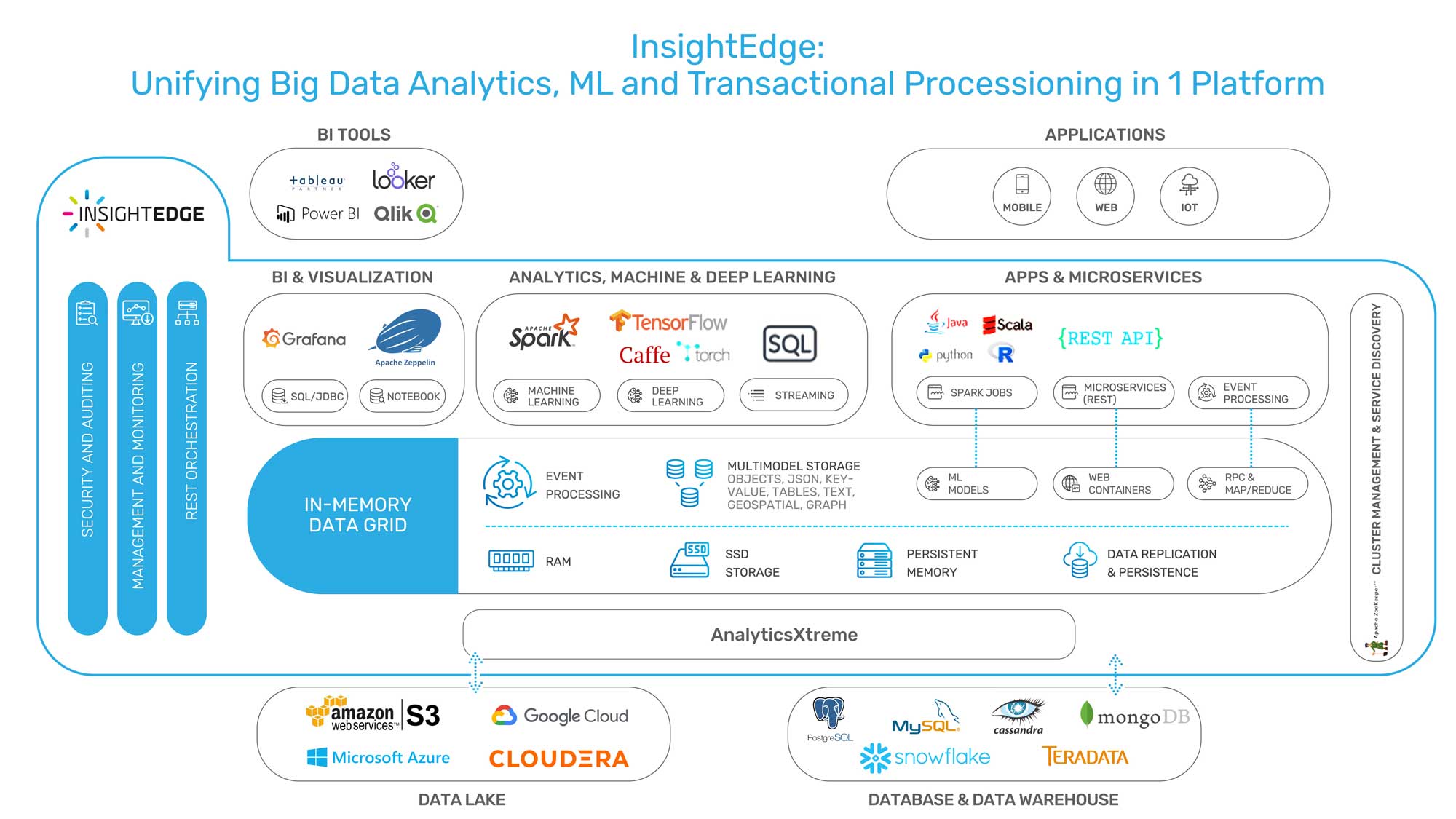 InsightEdge AnalyticsXtreme: Accelerating Data Lakes by 100X - Demo
InsightEdge and Informatica: Real-time Credit Approval - Demo
Leveraging Deep Learning for an Automated Contact Center-Demo
Event-driven Analytics and ML
At the core of InsightEdge, event-driven analytics and function-as-service are utilized in an efficient manner in order to trigger analytical workflows. Event triggers, notifications and FIFO messaging at extreme performance are provided in the comprehensive solution.
Peak Handling with Elasticity and Linear Scale
Elasticity simplifies deployment across multiple machines where resources such as Memory and CPU are automatically provisioned based on requirements. Peak events are handled seamlessly. InsightEdge offers linear scalability of distributed data stores and grid processing for unencumbered scaling and concurrency, as your data and number of users grow.
Any Data Model
InsightEdge supports multiple data types - structured, semi-structured, and unstructured, which eliminates the need for separate platforms that are limited to certain models. This is ideal for data virtualization and the requirements for a single source of truth. Some of the data structure supported are: Key/Value pairs, Table, Object, Document, Geo Spatial, Text, Graph, and Time-Series.
Optimized TCO
Simplified architecture eliminates cluster and component sprawl complexity; radically minimizing the amount of moving parts on cloud, on-premise, and hybrid environments. Intelligent multi-tiered data management across RAM, Persistent Memory, SSD, data lakes and data warehouses lets enterprises control where data is stored according to the applications' business logic.
Proven High Availability
Mature battle-tested platform for mission critical businesses. Highly available with up to 5 nines reliability and auto healing for zero data loss and zero downtime. InsightEdge is designed to handle the following High Availability and Disaster Recovery with: Optimized Fast Data Replication, Automatic Self-Healing. and Multi-Region and Multi-Cloud Support.
Multi-Region Data Replication
Enterprises can seamlessly replicate and share data between multiple, geographically-distributed, active clusters for global activity in either active-active or active-passive topologies. Each primary partition replicates in a synchronous manner to its backup partition, as well as in an asynchronous manner to the other InsightEdge cluster for: Network efficiency, Resiliency, and Privacy and Security.
ML on Live (mutable), Transactional and Historical Data
InsightEdge blends real-time decision making with historical data, even if the historical data is stored in external data repositories (file systems and object stores). Applications can leverage real-time machine learning and deep learning models on both hot mutable data combined with historical data from a unified API. Intelligent indexes, stored in-memory, accelerate data lakes and warehouses by 100X for faster and smarter decisions.
Additional resources
Want more product information? Explore detailed information about using this product and where to find additional help.
Reviews
Read what others are saying about this product in our review section.
Sharae W.

Event Planner & Creative Consultant

Review source: Invitation from G2

Review source: Invitation from G2

Not rated

May 18, 2018

"Xap"

What do you like best?

I like how it processes data fast with extremely low latency.It also has security & language interoperability with multi data storage & replication property.

What do you dislike?

It isnt marketed to the preferred audience so it is hard to locate.

What problems are you solving with the product? What benefits have you realized?

It keeps businesses functional with consistent SLA with important apps. It also monitors and self heals apps. automatically & on demand.

Not rated

May 29, 2020

"XAP - Provides very good facilities platform for big application developments and maintenance"

What do you like best?

Its relatively new and well maintained with active support .     Based on Java     Ability to load balance , replication and failover features.     Flexibility and Stability     Support for automated Testing.

What do you dislike?

My observation on Gigaspaces is more focused on cloud based / web based solutions - auto installation and auto deployments which are all good features for web based or browser based applications      but for our use we would prefer to have a simpler or lighter version focused on for standalone installations and usages with high focus on performance and stability      (Clear ability to cut down unwanted features and get a lighter model with much higher performance )     Please feel free to correct me - i may be wrong though.

What problems are you solving with the product? What benefits have you realized?

At Daiwa Securities we use Insight Edge platform more as a middle ware for communicating between all key components of algo trading platform. It also has good features for application deployment , load balancing, replication , failover capabilities , monitoring the installation and self healing infrastructure. Gigaspaces also helps to make our test framework easy to maintain or develop.

Not rated

May 25, 2020

"Scalability and Performance"

What do you like best?

In its core InsightEdge have the foundation that you need for an application - execution, messaging and storage. By design you also have partitioning/sharding of these three concepts. This together with its in-mem computing and fault tolerance gives us a platform with so much flexibility.

What do you dislike?

In-mem computing is complicated in terms of deployment since you have code and data in the same process. You need to have good tools to manage this in your environment.

What problems are you solving with the product? What benefits have you realized?

We use InsightEdge as our main application platform so we are solving more or less all our business needs with InsightEdge. We get many benefits from InsightEdge but what really stands out with InsightEdge is performance and scalability.

Not rated

May 13, 2020

"Marrying transactional data with anlytic data in a single platform"

What do you like best?

As a long time user of Gigaspaces XAP (predecessor to InsightEdge) it seemed a natural step for Gigaspaces to step into analytics. InsightEdge has provided us with a single platform for both our transactional and analytic applications. We now have "realtime all the time" and the TCO is low. It's without any doubt one of, if not the, leading Enterprise platform that I would use for almost anything I do. As a professional service provider, we have tried many different solutions but the only one still making the cut is Gigaspaces InsightEdge and all the extra goodies that come with it. NO doubt "best of the best"

What do you dislike?

I dislike the fact that GIgaspaces is not a more official product. It is quite unknown which makes it harder to get new people on-board. I have also discovered that it's hard for some developers to grasp partitioning and routing

Recommendations to others considering the product:

I would recommend you go all-in like we have thats when it shines the best

What problems are you solving with the product? What benefits have you realized?

We build banking and insurance systems from scratch. We get linear scalability, incredible response times and built in hot-hot- failover to mention a few.

Santiago C.

JEFE DE PROYECTOS en PSA Peugeot Citroen

Not rated

May 21, 2020

"InsightEdge : impressed by performance and short time to deliver a solution."

What do you like best?

Performance and scalability that enters smoothly into our ecosystem. Very straight forward process to merge actual systems with InsightEdge.

What do you dislike?

Difficult to say. I think a specific training for install and configure it's important to maximize the results.

What problems are you solving with the product? What benefits have you realized?

Real time calculations and storage of key-value information related with CO2 calculations with WLTP rules.