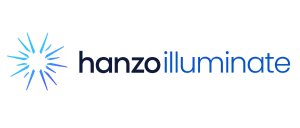 Hanzo Illuminate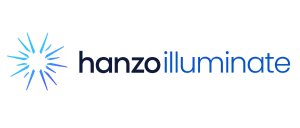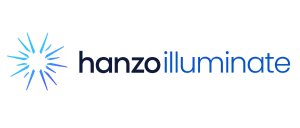 By Hanzo
Organizations must defensibly preserve and collect enterprise data from various sources like Slack, Teams, Google, Jira, cloud-based apps, and internal systems. Preserve-in-place, collect, investigate, cull, and export dynamic collaboration data efficiently with search and AI-supported data visualizations to quickly uncover insights and produce records for ediscovery in an export-ready package.
Delivery method
SaaS
This product is a pure SaaS offering and does not require any additional software prerequisites.
Preserve-in-place, collect, investigate, cull, and export complex collaboration data, efficiently and defensibly supporting ediscovery and investigation processes. Pre-collection data mapping limits collections by up to 85% improving downstream efficiency. Data enriched by Hanzo and securely embedded IBM Watson AI empowers legal to discover PII, sensitive data, and categorize information. Contextual conversation threading and review-ready exports speed outside counsel's data access and review.
Dynamically Mapped Data Preservation & Collection
Don't copy and paste the entire Slack or Microsoft Teams database for preservation. Instead, dynamically map your collaboration ecosystem to understand channels and custodian relationships so you can precisely scope only those channels or conversations relevant to your matter or investigation. Hanzo also enables in-place preservation of Slack or Teams for Enterprise customers with appropriate licenses. Pre-collection intelligence can reduce the collection of unnecessary data by up to 85%.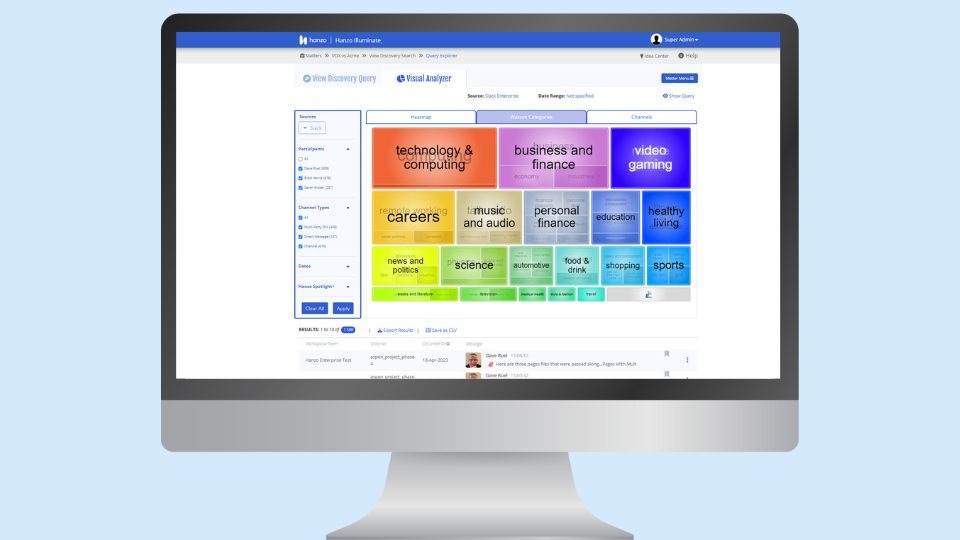 Rapid Data Intelligence & Risk Mitigation with Spotlight+
Make informed decisions quickly using collected data enriched with Spotlight+ powered by Hanzo and IBM Watson AI to discover PII, tag sensitive data, and help categorize conversations and collaborative channels. Analyze content to understand your data and identify sensitive information such as toxic and unwanted behavior. Leverage best-in-class data categorization and data classification libraries to rapidly find messages containing relevant content across vast amounts of information.
Early Case Assessment & Ediscovery
Assess and analyze information in context to reduce the reviewable data set, flag data for export, identify additional custodians or pursue internal investigations. Hanzo's powerful Visual Analyzer does quick work of analyzing search results with innovative summary displays.
Review-Platform Ready Context-Rich Exports
Automatic contextual threading of collaboration data brings the entire conversation into view, especially useful with Slack and Microsoft Teams data. Review-ready exports that require no additional processing speed outside counsel's access to data and simplify review workflows when time and productivity are of the essence.
Flexible Intelligent Data Management & Capture
Not all data sources have enterprise-grade APIs designed for ediscovery. Hanzo's API+ data capture approach helps collect details others can't and delivers more metadata and contextual information than traditional methods.
Secure Single Point Management
Manage Slack, Microsoft Teams, Google Workspace, Jira, Confluence, Asana, and more for greater productivity and efficient ediscovery workflows.
Command Center
Hanzo brings the first enterprise ediscovery application to the Slack Digital HQ with Command Center, helping legal teams create matters and perform legal holds from within Slack for Slack and Google Workspace data. Eliminate productivity-killing context switching and perform ediscovery duties up to 50% faster than using Hanzo Illuminate alone. Make the process easier and increase productivity with a guided workflow from matter creation through the collection of data right from within Slack.
Additional resources
Want more product information? Explore detailed information about using this product and where to find additional help.