Densify


By Densify
Certified enterprise ready
Patented machine learning analytics that enable automated management and optimization of container resources. Densify provides continuous and precise container resource specifications that can be automatically applied back to infrastructure to optimize performance and cost.
Software version
Densify 2022 SP1
When managing a container environment, Densify helps gain full-stack visibility enabling you to know exactly what is running in the environment, how resources are assigned to each application, how effectively each application is leveraging those resources, and how 'healthy' is the overall container stack. Densify eliminates guesswork and enables developers to incorporate optimal container resource allocation into their existing CI/CD pipeline via automation.
Right-size container request & limits
Meeting changing Application demand to eliminate guesswork and reduce risk and waste, Densify scientifically analyzes your detailed workload demand patterns, resulting in ~40% reduction in container resources. With containers right-sized, Densify also looks at your node usage and can optimize the number of nodes required for your containers, resulting in additional cost savings and optimized performance.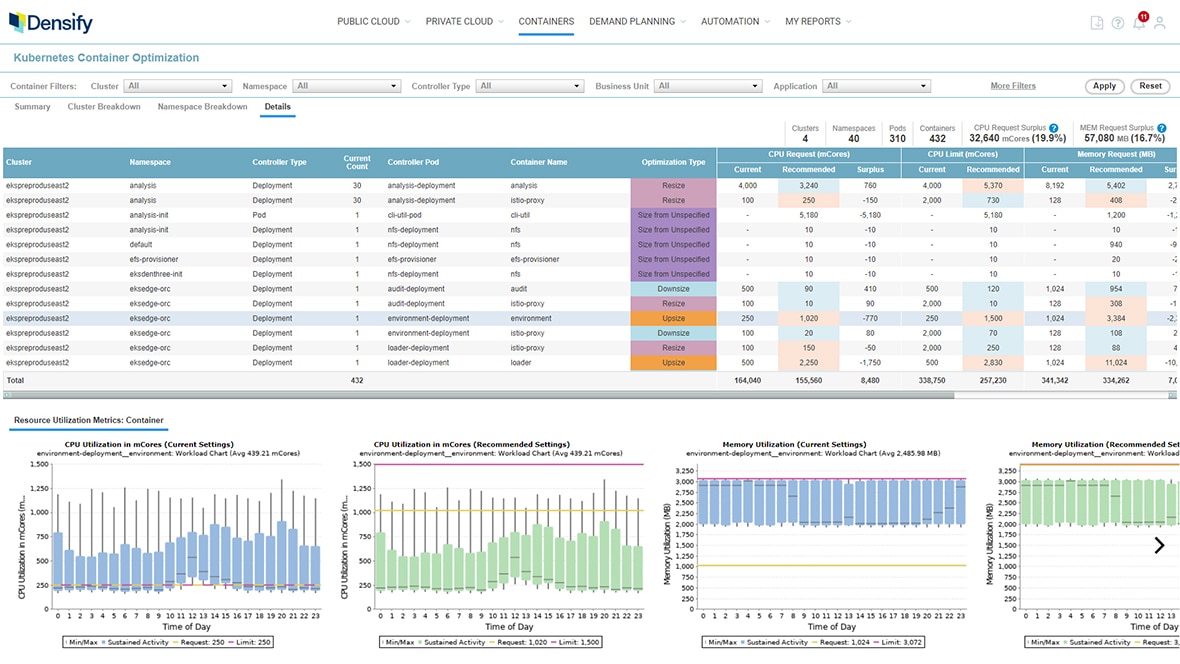 Enable resource request automation
Reduce errors, labor, and ensure the right resources are available for your applications when they are needed through integration with ITSM tools, and DevOps processes. Automation via Ansible provides overall visibility and governance.
Enable CI/CD/CO (Continuous Optimization)
Containers and CI/CD have made the practice of software development increasingly complex—and overwhelming. As organizations embrace the DevOps practices to continuously deliver better applications in a more agile fashion, it is critical for your DevOps practitioners to see the whole CI/CD pipeline. CO is Continuous Optimization, where Densify integrates into provisioning tools to continuously optimize the resource selections, prompting the adoption of Infrastructure as Code.
Pricing summary
Environment size is unlimited (VM + cloud instances + containers) all included.
Annual subscription with additional discount for multiple year deal
Unlimited use case and functionality, full support and assigned account manager.
Integration capability for CMDB, ITSM systems, and any other vendor API access.
Additional resources
Want more product information? Explore detailed information about using this product and where to find additional help.