By Nastel Technologies, Inc
Nastel AutoPilot® for Kafka provides: the industries deepest pro-active and real-time Kafka monitoring of Streams, Brokers, Producers, Consumers, Clusters, Controllers, Followers, Partitions, Topics, Resources
Focus sentinel
Focus sentinel
Nastel AutoPilot® for Kafka provides the industries deepest pro-active and real-time Kafka monitoring of Streams, Brokers, Producers, Consumers, Clusters, Controllers, Followers, Partitions, Topics, Resources. and provides self-service capabilities (allowing your development, QA and Operations teams to manage their own streams and queues), as well as message tracking, Kafka configuration management and capacity planning in a single easy to use solution for Apache Kafka.
Real-time kafka analysis
Undertstand exactly how every transaction (or group transactions) is performing. Monitor using agents or go agent-less Monitor health, performance and policy metrics in real-time. Nastel is the only vendor that provides the choice of monitoring locally (with agents) or remotely (agent-free) to support all types of Kafka implementation.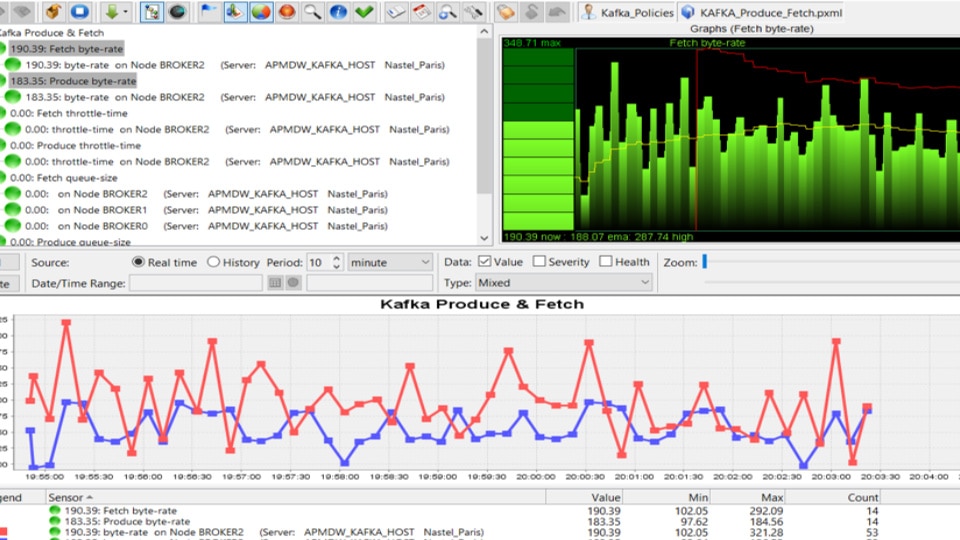 Topology Mapping
Benefit from better productivity and visibility with instant monitoring of Kafka Clusters, Streams / queues, applications and brokers. Auto-discovery of all Kafka objects and their state translates to a visual map of every cluster, broker, producer, consumer, through to the business service, along with all application data formats and dependencies. This saves IT professionals hundreds of hours in initial setup and policy definitions, and eliminates the time consuming work associated with making
Kafka Transaction Tracking
Gain a deep understanding of how each transaction performs. Achieve compliance to regulations and corporate governance and be understand the user experience.
Kafka Transaction. Visualization
Visibility into applications prevents situations where delayed processing of messages means lost business. See transactions (or groups of transactions) and the details on how they are performing.
Event Correlation
Track a transaction through the whole application stack, hardware, platform, services, applications and middleware. Monitoring Kafka is not enough. To keep your business processes running smoothly Nastel provides visibility into everything that matters, such as events generated by the OS environment, other middleware, and applications.
Early Warning Performance Alerts
Advanced warning of performance and availability concerns, maximizing the user experience and minimizing the corrective action/preventative action (CAPA) / war-room meetings. In accordance with defined policies, common problems like stream issues or messages in DLQs are immediately visible. AutoPilot for Kafka provides visibility across all Kafka platforms from a single point.
Secure Self-Service & Dashboards
Assignable self-service privileges off-load work from the Kafka team and improve their overall productivity by allowing app developers and owners to be self-sufficient, while maintaining security and privacy. Customizable dashboards enable every interested party to benefit from access to Kafka visibility. Lower costs, increase productivity and create a shared view of the business.
Configuration Management
Increase security and reduce management complexity. User Interface that allows all the parameters associated with Kafka clusters, brokers, streams and messages to be manage centrally.
Additional resources
Want more product information? Explore detailed information about using this product and where to find additional help.