Atomic Enterprise OSSEC


By Atomicorp
Certified enterprise ready
Adds manageability, security, and compliance features to OSSEC, the world's most popular open source server intrusion detection system.
Atomic Enterprise OSSEC provides intrusion detection, file integrity monitoring, log management, compliance reporting, vulnerability scanning, active-response and more.
Log Based Intrusion Detection and Prevention
Using agents, or our agentless ingestion Atomic Enterprise OSSEC can perform high-fidelity Intrusion Detection across hundreds of operating systems, applications, and services.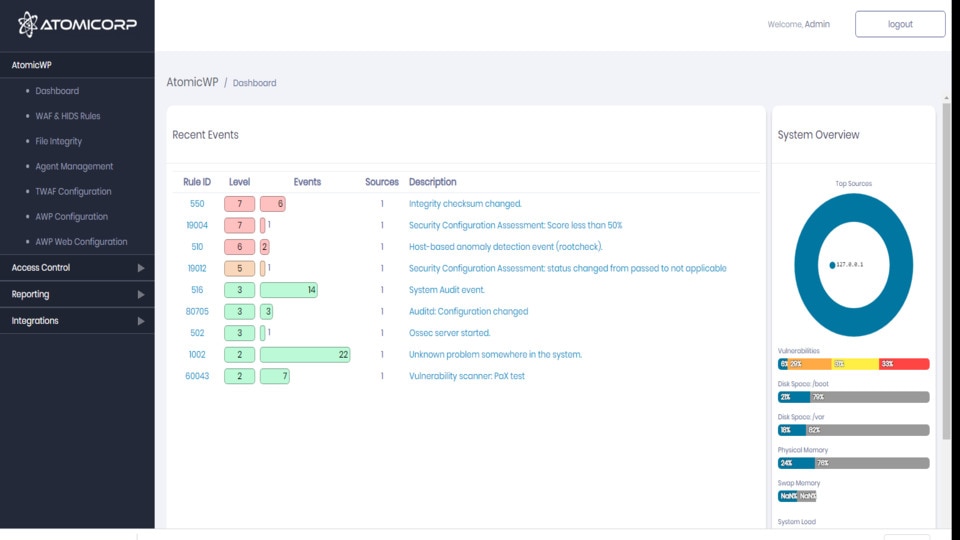 Vulnerability Scanning
Performs host-based vulnerability scanning in 3 seconds or less, on Windows, RedHat, Centos, Debian, and Ubuntu. Our no-risk vulnerability scanning system runs hourly, and imparts no load on the targeted system.
Compliance scanner
Supporting PCI-DSS, CIS, NIST-800-53, HIPAA and many others, our agent based compliance scanner can track overall workload compliance with one or more standards concurrently on a continuous cycle.
Pricing summary
Backed by Expert Support from the Project Sponsors
Easily Manage OSSEC Deployments
Powerful Intrusion Detection and File Integrity Monitoring
Additional resources
Want more product information? Explore detailed information about using this product and where to find additional help.